Lone Soldiers: Opening My Eyes and Making Me Proud
By Jessica Landon, a Diller teen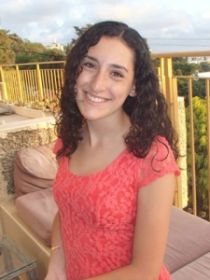 Over the past year, I have gained a profound appreciation for Israeli society and culture through my introduction to The Lone Soldier Project™. By learning about and meeting soldiers from the Israeli Army, I was able to develop a deeper understanding of Israeli society. This newfound connection began during a workshop organized as part of the JCC Boston Diller Teen Fellowship, a 15-month pluralistic, national, youth leadership fellowship currently available in 16 North American and Israeli communities.
The Diller program partners fellows from eight cities in North America with those from eight cities in Israel to focus on Jewish identity, leadership, Israel, and community service. In May, we met with a former Lone Soldier and then online, spoke with a current member of The Lone Soldier Project™.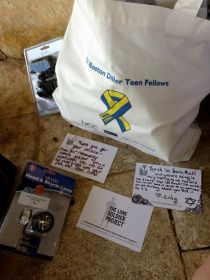 Although I developed a new understanding of Americans in the Israeli army from this workshop, I had yet to experience a true understanding of what it means to be a soldier in the Israeli army and the role of the armed forces in Israeli society. Furthermore, when I learned that we would be meeting with a Lone Soldier in Israel, I did not expect to gain a deeper connection with Israel or the army.
After visiting Yad Vashem on our second day in Israel, we continued to Har Herzl to visit the graves of some of the most important people in Israeli history. We visited the grave of Theodore Herzl, the father of modern Zionism, and many of Israel's Prime Ministers, as well as the graves of soldiers killed while serving in the army. Arava, our tour guide, took us to the grave of her friend Uri, who was killed in the second Lebanon War at age 21. As we read Uri's eulogy, we reflected on the meaning of being an Israeli, and the stark reality of potentially facing death at the same age that we Americans are beginning college.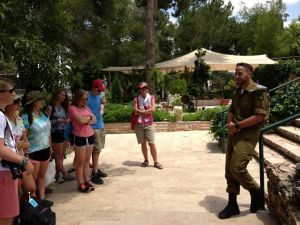 As Arava emphasized, when one person is lost, it affects everyone. I began to look at Israel not as a tourist, but as a part of a community connected by the passion to protect their homeland at any cost. The army, something relatively foreign to us Americans, is so inherent to Israeli culture that understanding what it means to be a part of the army and be interconnected to the entire community of Israel through the obligation of becoming a soldier allowed us to further understand what it means to be an Israeli.
Shortly after visiting Uri's grave, we visited the grave of Michael Levin, about whom we learned at our workshop in May. There, we met with Avi from The Lone Soldier Project™ who told us of his decision to leave the US and enlist in the Israeli army. We made many connections to the people he knew back in the US and the school and camp that he went to. Meeting a genuine "Lone Soldier" made me realize that I, and people like me, can also become a part of the Israeli society by joining the ranks of the Israeli army to serve alongside native-born Israelis. 
Although I do not think I will join the Israeli army (even though part of me would like to), hearing Avi's story helped me connect to the army and the soldiers in a more personal way, and moreover, it inspired me. I listened to his story in admiration of the Israeli community and the drive of the Israeli army.

I have always known that Israelis are proud of their country and its accomplishments, but I myself only truly felt that pride and passion after my third trip to Israel.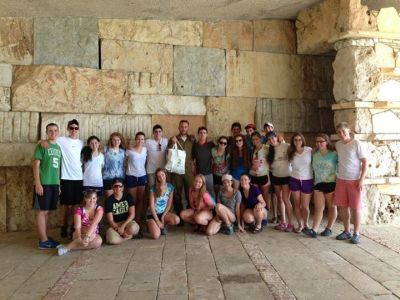 The inspiration that I have gained from meeting Lone Soldiers, both in America and in Israel, has allowed me to develop a deeper connection to Israel and motivated me to try and share this new relationship with my friends and family. I eagerly requested to blog for the Boston Diller Teen Fellows about my experience on that Friday when we met the lone soldier because I was so inspired and moved by what I experienced. And, as I begin to think about college, I have an even deeper respect for my Israeli friends as they begin to think not about college, but about the army.
---
Recommended for you:
---
SUPPORT LONE SOLDIERS ON THE FRONT LINES