Monthly surprise packages from Israel, shipped right to your front door!
by Emily Berg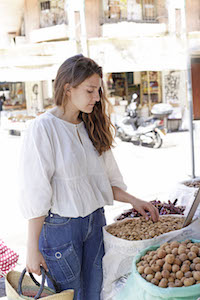 I moved to Israel in 2012 after meeting my now-husband, Ofir, in India. Two years later, he was called to serve in "Operation Tzuk Eitan," spending 40 days at the Gaza border. Alone in my apartment, I had a lot of time to think about my life here, in Israel - my plans, my purpose and my future.
One day, I received an email from a Jewish organisation back home, imploring its community members to "buy Israeli products." It read: "as a passionate supporter of the Jewish state, there are a number of different ways to show your support for our beloved Israel. We encourage you to purchase Israeli products either online or at a local retailer. Whether you purchase sandals (Naot), moisturising cream (Ahava), food products (Elite) or pop (Sodastream), you will be showing Israel that we care."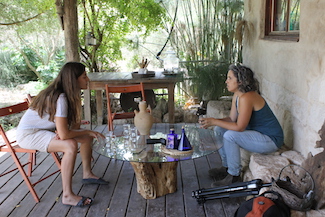 I checked-out a few of the links they provided, which were either broken or led to sites selling kippot that looked like basketballs. I did a Google search and couldn't come up with anything much better: commercialised, mass produced junk food, chochkas and Judaica.
"Wait a minute," I thought to myself. "These are their options?"
This made no sense to me as I had spent the past two years living in food and design heaven, buying fresh olive oil, honey and other delicacies regularly. I noticed a huge disconnect between my own shopping cart (often full of beautiful, small-batch, organic, natural, handmade, sustainable items purchased at local markets) and the "Israeli products" that are accessible to the outside world, sold in mall kiosks and duty free shops.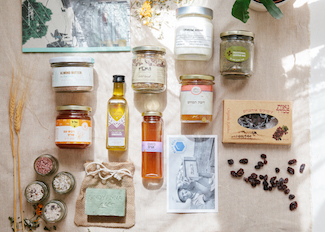 More importantly, I know that there are hundreds of small businesses (mostly located in the country's periphery) that do not have access to the global market nor the means to ship abroad. While Israel is known as the "Start Up Nation" with an impressive hi-tech industry, this success is not felt by the majority of the population, and many small business owners struggle to make ends meet.
Wouldn't it be amazing, I wondered, if I could find a way to support these small businesses by selling their products on a mass scale? What if Jewish pantries all over the world had a regular supply of quality Israeli products? After a year of careful planning and research, I officially launched Blue Box in July 2015.
Blue Box is a company with a mission: to support Israeli small businesses while giving Diaspora communities a meaningful and hands-on way to connect to Israel.
It is a subscription service: each month we feature one handpicked Israeli vendor (farmers, artisans, designers, kibbutzim, NGOs) and ship a selection of their products, as well as their "story" written on a postcard, right to customer's homes. I visit each site to ensure the highest quality and adherence to ethical standards, and personally curate each box.
Our Vendors represent the true diversity of Israeli society, both geographically and culturally: a third generation beekeeper from Israel's first kibbutz; a sustainable family farm in the western Galilee; a hassidic herbalist from the foothills of Jerusalem; a collective of African refugee women in South Tel Aviv; and organic vegan commune in the Arava…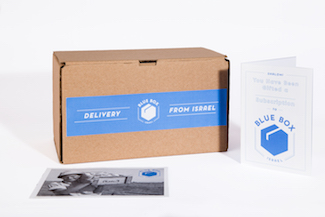 Each month, subscribers receive a carefully curated box of high quality, innovative, Israeli-made products. Many are organic or handmade, using fresh ingredients and sustainable agriculture. We look for products that reflect local tastes, flavours and textures, often with a twist. Past boxes have included: organic cold-pressed olive oil; halva-flavoured almond butter; merlot-infused Dead Sea salts; Ethiopian whole-sesame than; anise-flavoured honey; guava jam from the Negev; Zapata and other local spice blends; and much more.
I am so excited to offer Blue Box to Virtual Citizens of Israel™ at a discounted price! I hope you enjoy your monthly box of goodies.
Blue Box Israel is a proud VCIRewards Vendor!

Registered VCI's get 10% off!

In our continued effort to help you celebrate your Israel connection, we are proud to present an exclusive set of discounts, opportunities and other benefits that all Virtual Citizens of Israel can enjoy!
---
Recommended Rewards:
---
DECLARE YOUR PRIDE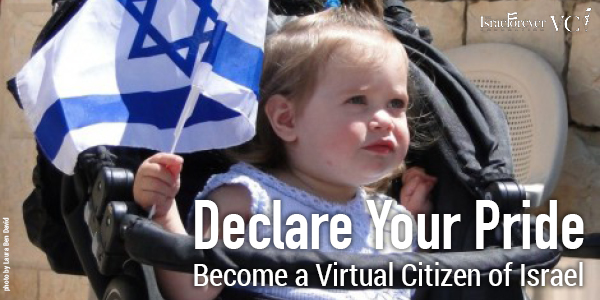 Join a global Jewish community that connects people from around the world who share a connection to Israel today!