A Mosaic Of Cultures
By Luisa Peress
I was born and brought up in Slovenia, a country of 2 million people of whom less than 200 are Jewish. I did not feel Jewish because I never had the possibility to talk about it and meet Jewish people outside of my family. My family, as many Jewish ones, is scattered on 3 continents, so I always felt the need to live somewhere with multiculturalism. And in a way, I always felt the need to find myself.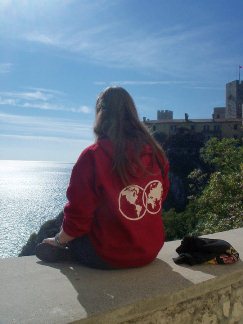 Things changed when I moved to the United World College of the Adriatic, in Italy. Being surrounded by people from more than 100 countries who brought their own culture to the College, automatically and unconsciously, made you feel the need to find who you are, where you belong.
Was I Slovene, since that is the land I was born in and hold a passport from, or was I Italian, since that is my first language and I grew up surrounded by Italian culture. Or again, was I Croatian, as some of my family is, or was I Israeli, as another part of my family? Or was I all of these and even more nationalities combined?
These were all questions that held no answers and as time passed, my view of myself changed.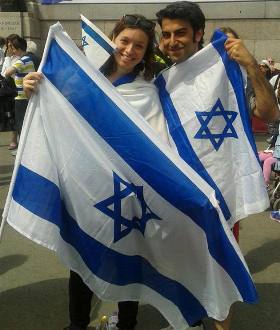 My time at UWC was also when I first came in contact with others' concepts of Israel. That is also when I met my best friend, who happens to be from Israel. My guess is that because he was such an interesting person, he contributed to my becoming more interested in Israel itself.
Moving to London to study medicine changed everything again. In my university there are 15,000 people, most of whom I do not know. Because of both personal experiences and things that happened to people I know, I unfortunately do not feel safe as a Jew and even more so, I do not feel safe as an Israeli.
What saved me from this uneasy situation is that I joined Genesis Challenge, a program bringing together Jewish students studying in the UK.
This was the moment I managed to connect my past and heritage with my present, the first time I truly felt Jewish and the first time I truly felt Israeli.
I felt a deep connection with these students as we all share a common past and yet, we are now writing and shaping our personal life stories. Some of us have also made the same choice to share our futures: We decided to make Aliyah and, as most say, "Come back home".
In London, many people from the Jewish community support Israel and wish to be her ambassadors, to share the happiness of celebrating Israel. I have come to embrace this definition of happiness: happiness is doing what you believe in.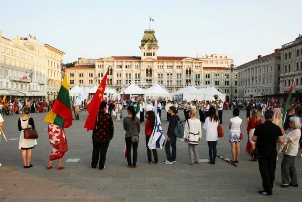 But, returning to my question of who am I, where do I belong, I can now say I have come to consider myself a blend, a mosaic of many different cultures, with Israeli being the core one.
If I am put in a position where I have to choose only one nationality with which to identify myself, I know for sure that I will say: I am Israeli.

I am a 19 year old who will make Aliyah and use her knowledge as a doctor in Israel.

I am a 19 year old who wants to be part of a country where the sun shines and where people talk and discuss everything openly and without fear.
Where in a discussion with two people, there will be at least three opinions, as the saying goes....A true vibrant democracy, a leading country in scientific discoveries, with brilliant minds in every possible sector!

A country of wonderful people and a country that I will soon call, my home.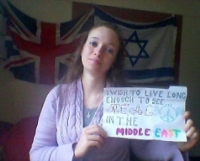 Luisa Peress was born in Slovenia in 1993. She was raised and grew up there until the age of 17, when she was awarded a two-year (2010-2012) full scholarship to study at the United World College (UWC) of the Adriatic, in Italy.

In September 2012 she moved to London and is currently studying medicine at Barts and the London Medical School, under Queen Mary London University. Her plans are to stay in London until she finishes university and subsequently, to make Aliyah.
---
Recommended for you:
---
STAY CONNECTED NO MATTER WHERE YOU LIVE