My father and Israel
By Justin Amler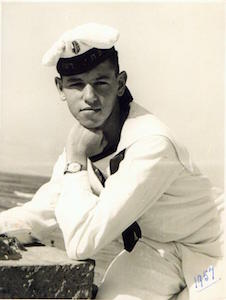 I want to share with you a story. It's a story about my father, before he was my father. It's a story about a man, before he became a man. It's a story about someone before he was anyone. And it's also a story not just about a person, but about a time, an era – an era when idealism ruled above materialism, and when the hopes of an entire people rested upon the efforts of just a few.
My dad was born in the middle of 1939 at a time when Hitler was alive, at the zenith of his power, poised to release a darkness onto the world on a scale the likes that had never been seen. And while Vernon Amler took his first few steps in a small country town in South Africa, thousands of miles away in Europe his people – my people – were being slaughtered.
And as the darkness of the Shoah passed leaving behind the memory of 6 million of our people, ripped from this earth, a new light had already begun to flicker. From the ashes of the deaths of so many, rose the rebirth of our 3000 year old country – the State of Israel. At last, after so much suffering and so much persecution, our people once again had a home and a place where they belonged.
And into this world of rebirths, my dad lived, becoming a member of Betar, a Jewish Zionist youth movement with the goal of empowering the Jewish youth of the world. During these years, between 1948 and 1953, he was fortunate to see Menachem Begin and to hear him speak passionately about his people.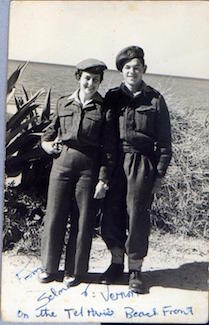 When the INS Misgav became the first Israeli warship to dock in the harbours of Cape Town in 1954, a stopover on its way to Eilat, he shared the enthusiasm of the Jewish community, and when the ship left, in its wake remained immense memories of pride as well as sowing the first seeds in a 15 year old's ambition to join the Navy.
A year later another crisis was brewing in the Middle East with the Egyptians and the South African Zionist Council approached the Zionist youth movements as a general effort to send volunteers to the IDF in Israel in a program called Machal Nachal.
In March 1956 the first group of 20 left from South Africa followed by another group in August, which included my dad's oldest sister. My dad wanted to go too, but he was still in school. But at the end of his final school year, just 3 days after writing his final exam, he joined 20 others and made the trip to Israel, flying Sabena Airlines on his first flight ever.
A few days later he officially joined the Israel Army at the tender age of 17, becoming the youngest member of the IDF, for which he had to get special permission. My dad was a mere schoolboy surrounded by volunteers years older than him and more experienced in life.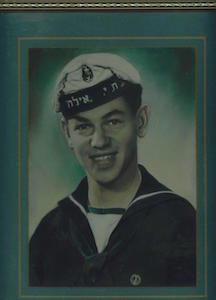 Israel was a young country at the time, without much money or resources and 10 volunteers would stay in a single tent – tents that were old and tattered with holes in them. Although they desperately needed new tents, none were available as they were told that all new tents had to be used for the many Egyptians captured in the 1956 Sinai campaign which had ended a few months earlier. My dad and the rest of the volunteers were forced to sleep with groundsheets over their bodies to keep out the rain.
Even then, as a poor country fighting for its survival the Israeli army always conducted itself with a morality no other army in the world has ever matched. Not then and not now.
In Israel, the volunteers like my dad would train day and night, lying in the mud and in the rain, far away from the comfortable lives they were living in South Africa, but rather than be upset, they were relishing it, taking an active role in the State of Israel's rebirth. It was also during this time they would be taken to meet the pioneers of modern Israel such as Moshe Dayan and Abba Eban among others – giants of the Jewish world.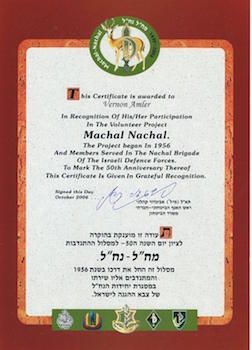 The training was tough, and on one occasion, while jumping off a roof, my dad sustained a broken ankle and was transferred to a home for recuperating soldiers located on Mount Carmel in Haifa. It was during the train ride there that my dad began to understand the depth of the respect and the importance of the army in Israeli life. The civilians on that train ride showed the deepest appreciation and respect to all its soldiers, for they knew there wouldn't be an Israel without the IDF soldiers to protect it. During my dad's recovery from his injury, he was also humbled by the fellow injured soldiers he met at the Mount Carmel recuperation home, including one who had 3rd degree burns all over his body. My dad would sit with him, helping him change his bandages as part of his daily routine.
It was also during this recovery period that my dad learned that injured soldiers could apply for a transfer to another unit – and so began his plan to join the Navy.
So every day he would fill out the form requesting a transfer to the Navy and every day he would wait for an answer, but none would come. Eventually he was released from the recuperating home and returned to his base in Bet Daras in Southern Israel. And each day he would nag his base commander whose response was always negative. Eventually he spoke to the radio operator who said his transfer to the Navy had come through but his base commander wouldn't release him. Refusing to accept that decision, he got a friend to send a telegram saying his family had arrived in Tel Aviv and needed to see him urgently. With the leave secured, he was able to make his way to the naval base in Haifa and begin his first steps into realising his dream of joining the Navy.
Soon after officially joining the Navy, he was selected to go on an Anti-Submarine training course, but because he was still wearing his Nachal uniform, people kept on thinking he was on some secret course.
Eventually the course was complete and he was given his naval uniform, formal blues and formal whites and shortly thereafter he was assigned to the INS Eilat, a former British Navy ship during World War 2. It was with extreme pride, having finally realised a dream, that he sailed with the Israeli Navy to Italy, toured Pisa, the Cote de Azur, and eventually docked in Toulon where he was involved in a joint training exercise with the French Navy.
Years later in 1967, the INS Eilat was destroyed by an anti-ship missile fired by the Egyptians leading to the loss of 47 people and 91 injured. My dad was devastated as he still had friends that were serving on the ship.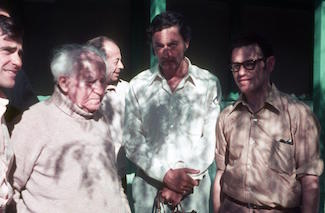 In December 1959 my dad decided to return to South Africa where he became involved in the Jewish community and continued Zionistic activities. It was through these activities that he would travel to Israel again, and meet the former Prime Minister David Ben Gurion in 1968.
The world today can be a cynical and selfish place fuelled by personal desires that drive individuals to want more and more, but my dad lived in a time when idealism was the currency of hope. Real idealism that meant something, not like many of the fake causes we see emerging with every season like a new fashion line. My dad played a part in the re-emergence of Israel, when optimism was the driving force of the land and fighting against impossible odds was just another day at the office.
Israel is a story about an entire people, thousands of years old, and yet it's also about young people and sometimes an individual too.
In 2006, my dad returned to Israel where he was presented with a certificate of gratitude as part of the 50th anniversary of the Machal Nachal volunteer group of which he was a part. And during that trip, on a visit to Yad Vashem their tour operator made a public announcement introducing these grey haired warriors to the many people around. And just as back on that train ride to Mount Carmel 50 years earlier, people young and old, school children and adults, stood aside and clapped and applauded, showing an appreciation and respect to a ragtag bunch of warriors who could have remained behind in a comfortable existence, but instead chose to put their people before themselves.
The Nation of Israel is a strong nation, but that strength has never been in its number, of which there are few. It's never been in its land, of which there is little. And for most of our history, it's never been in our weapons, of which we had none. Its strength has always been in its spirit that for thousands of years has lived in the Jewish people – a spirit that has never weakened and never been extinguished, despite so many attempts over so much time to snuff it out. It's a spirit that lives on through conflicts and challenges and triumphs. It calls to us and gives us strength and will and drive – a spirit so powerful that it causes a 17 year old boy to leave the comforts of home and everything he's known to travel thousands of miles across the world to answer that call.

Justin Amler is a South African born, Melbourne based columnist who has lived in South Africa, New Zealand and Australia and is currently working in the Information Technology industry. He is a regular contributor to international publications, including the Jerusalem Post and the Times of Israel. Justin is also a valued Israel Forever blogger, writing about his connection to the Jewish state. You can reach Justin on Twitter, Facebook & Google+.
---


---
More stories by Justin:
---
STAY CONNECTED NO MATTER WHERE YOU LIVE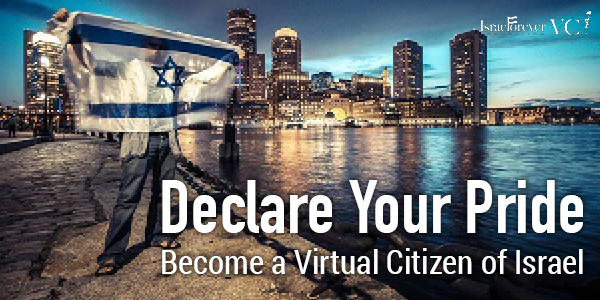 About the Author

Justin Amler is a South African born, Melbourne based columnist who has lived in South Africa, New Zealand and Australia and is currently working in the Information Technology industry. He is a regular contributor to international publications, including the Jerusalem Post and the Times of Israel. Justin is also a valued Israel Forever writer, thoughtfully discussing his connection to the Jewish state. You can reach Justin on Twitter, Facebook & Google+.