My Last Day in Israel
By Justin Amler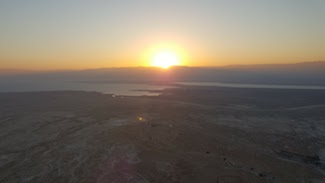 As the dawn broke on my final day in Israel, I had watched its light shine upon the land, just as it had for thousands of years before. And as it sunk into the deep blue sea of the Mediterranean, my heart sunk with it, knowing that it might be a while before I'd be able to watch it rise again.
But even though I knew I'd be leaving, I also knew that in a way I wouldn't be, because you can never really leave Israel when a part of you remains forever there.
During my 3 and a bit weeks of travelling, I had crisscrossed much of the lengths and breadths of this country, journeying across both time and distance and yet knowing I've only scratching the surface of the magnificence of this place.
In Efrat, I had walked in the heartland of Jewish history, walking on the same road that Abraham once walked, holding his son's hand on the way to a mountain top that would eventually become Jerusalem.
I had stood on a lonely rocky crevice on top of a desert mountain, but had not been standing alone, for standing alongside me were my people from thousands of years earlier. Together we had gazed with wonder as the sun rose across the desert slowly revealing its secrets. Now, like then, we watched as free people in our free land.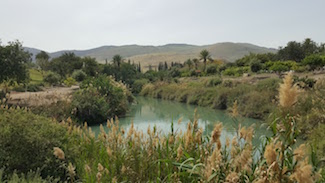 I had waded in the waters of Ein Gedi as David once did, hiding as a shepherd boy, yet destined to be the greatest king Israel has ever seen – and one whose songs we still sing today.
But along with the ancient past of this country, I had experienced its modern future where neon signs scream out at you, just meters from places where prophets once walked. Modern boulevards line the beaches and coffee shops and cafes line the streets, even while ancient ports form the backdrop of what seems like a painted landscape behind you.
But even among the great temples which tell stories of the legends of old. And even within the spectacular seas with waters so blue that you cannot help, but be hypnotised. And even below the towering mountains that seem to call your name as they glisten with more shades of yellow that you even knew existed. And even surrounded by the forests whose trees descend into forever and the valleys so green and lush that you just want to throw yourself onto them and sink into a blissful sleep. Even among all these things, it's the smaller and quieter experiences that really hit home about the importance of this country. It's when the bus driver says Chag Sameach as you exit the bus. It's the lady who wishes you Shabbat Shalom as you pay for flowers to bring in the Sabbath. It's the conversation with the taxi driver who blesses you and your children as if you are part of his family, even though you just met. It's the fact that hotel rooms and restaurants, whether kosher or not, will still have the mezuzah lined up upon their doors.
This small land that takes just 5 hours to drive from Rosh Hanikra in the northern most coast to Eilat in its most southern corner, bursts with so many stories and so much energy that you can't help but feel constantly dazzled.
People sometimes might think that my head is in the clouds when it comes to Israel and maybe they're right, but I believe dreams form the makeup of our souls and without dreams we cannot enrich our world and our lives. Theodore Herzl was a dreamer after all, and without his dream we wouldn't be standing here today.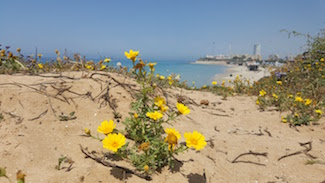 But as much as Israel is unique and special – and it is – it also has the same challenges as any other country. You still need to work, earn a decent salary and be able to make a living. And people in Israel probably work longer hours than most other countries. Language can also be a barrier – and one that not everyone can easily overcome.
And while of course there is terrorism, and it's never too far from your mind, there's also amazing examples of coexistence between Arabs and Jews who work together in mutual harmony and respect.
Israel is undoubtedly a beautiful country, but there are many beautiful countries in the world and as breathtaking as the scenery can be here, there are many places around the world that probably surpass Israel, but what makes the beauty here so special is not just what you see with your eyes, but what you feel with your heart. Because when you gaze upon the beauty of the hills or the sea or the mountains or the fields, you don't just gaze with your own eyes, but with the eyes of a people thousands of years old. And when you do that, you can find beauty in the smallest of things, like a clump of grass, or a pebble, or even an empty patch of dirt.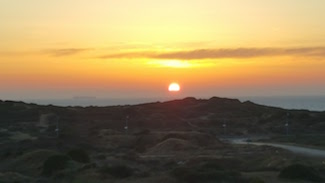 In Israel there is a constant buzz that seems to surround you, as if there's a natural bolt of electricity that seems to run through the country and its people causing society to be vibrant and exciting and constantly on the move. The people here are incredibly interesting and immensely diverse, and the range of opinions that exist are as varied as the landscape itself.
When you live abroad, it can be easy to compartimize people into groups of left or right, but it's different here. People and their opinions are all valid, whether you agree or disagree, because they are living life with all its challenges day in and day out, doing the best they can. In Israel, there are no easy answers, except for the one about what salad do you want in that pita – for which the answer is always the same: EVERYTHING!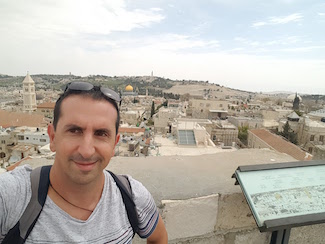 To hear a living Hebrew spoken around you – the ancient tongue of your people – is invigorating in itself. And when you can communicate in it – no matter how basic – there is a constant thrill. Never has the phrase השירותים איפה ? (where are the toilets) sounded so exciting.
Israel is a land in which your past is never far away, but your future is even closer. It's a living country that is crazy and emotional and temperamental and loving and will drive you insane, but will never let you go.
I had been to Israel before, but there was something different about this trip. Something had changed. It wasn't just the country that had developed even more. It wasn't just the roads that had improved so dramatically. It wasn't just the food that had always been so amazing.
It was me.
Because in the last few years, I had learnt to appreciate even more just how special this place is, not just to Jews, but to the world in general and when you look at the chaos that engulfs our world, some of it just a short drive from where we stand, you realise how much of a miracle Israel truly is.
I'm not going to lie – it wasn't easy to leave this place and it was in fact far more painful that I'd care to admit, but I did take some comfort in knowing that a part of me had never really left anyway and never would, because although I may have been born in South Africa many years ago, my heart says I was born right here thousands of years more.
Despite all the wonders Israel holds, it's not just about ancient temples and ancient prophets. It's not just about modern roads and modern technology. It's not simply about valleys of such beauty or mountains of such splendour.
In its simplest form, Israel is about the most special place there is for anyone – a place called home.

Justin Amler is a South African born, Melbourne based columnist who has lived in South Africa, New Zealand and Australia and is currently working in the Information Technology industry. He is a regular contributor to international publications, including the Jerusalem Post and the Times of Israel. Justin is also a valued Israel Forever blogger, writing about his connection to the Jewish state. You can reach Justin on Twitter, Facebook & Google+.
---
More stories by Justin:
---
STAY CONNECTED NO MATTER WHERE YOU LIVE