A Prayer for Israel
I'm sick.
Since last Friday morning when I woke up to the news that three Israeli kids were kidnapped heading home from their studies, I have felt physically ill and sorrowful. I have felt helpless.
I trust the IDF and the intelligence service to be pursuing every lead, overturning every rock, pebble, speck of dust, looking into each closet to find these kids. Someone has to know something. The boys have to be somewhere.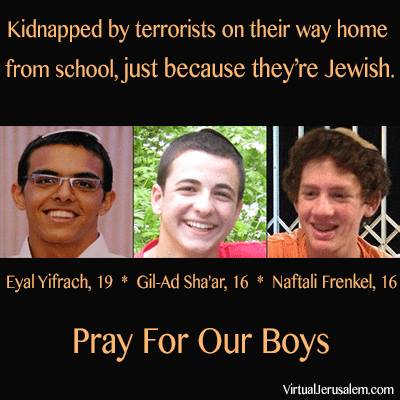 I've got my phone at my side following the latest updates. At home, I've been glued to the television surfing the cable news stations to see if this latest assault on the Jews is being followed by the news outlets. It wasn't on the ABC World News this evening.
Three kidnapped Israelis, an entire society held hostage but it was more important to report that Alex Trebek of Jeopardy now has surpassed Bob Barker of Wheel of Fortune as the longest running game show host.

I stare at this filler material masquerading as news. I can't relate to it.
As a member of the Jewish people, I am part of what is going on. But I don't fool myself- I'm not over there and what the Israelis are going through, for this is an experience that is theirs. Regardless of my sincerity and deep feelings for everyone, well, I'm on the periphery...
For me as an individual, there is nothing to do besides write talkbacks and try to stay in communication with friends in Israel. I'm having a very strange experience with that.
I pray for the Jewish people,
I pray for the State of Israel,
I pray for the safe return of the boys.
I pray that our IDF and other security forces are successful in finding them and that no one gets hurt in the mission.
---
Recommended for you:
---
STAY CONNECTED NO MATTER WHERE YOU LIVE