Remembering Munich: Fathers, Sons, Brothers, Athletes, Israelis, Jews.
On September 5, 1972, the Munich Olympics were transformed, for the span of 22 hours, into a site of terror. The team of Israeli Athletes were taken hostage by Palestinian terrorists, and 11 men lost their lives.
"These men were sons, fathers, uncles, brothers, friends, teammates, athletes. They came to Munich in 1972 to play as athletes in the Olympics. They came in peace and went home in coffins," Ms. Rekhess-Spitzer.
In 2012, in honor of the 40th anniversary of this tragic event, organizations, communities, families from around the world sought recognition of this event by requesting that the International Olympic Committee approve 1 minute of silence in their memory at the opening ceremony of the 2012 games. The request was denied.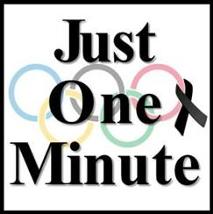 Now, terrorism increasingly threatens the lives of Israelis, Jews, and many other communities around the world. It is incumbent upon us to protect the memory of these Jewish men and the message their murder sends to the world: that we cannot afford to stay silent or inactive in the face of enemies who seek to destroy, murder, defame, and control mankind through fear.

Imagine if, around the world, people recognized that the murder of these 11 Israeli athletes is not about politics or religion. This is about the protection of human life and understanding situations when it is compromised by hate and terrorism.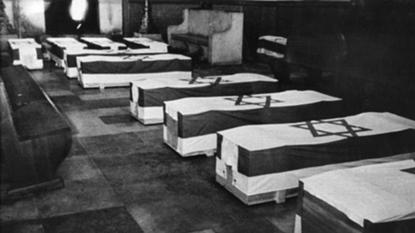 By learning of the importance of this event to people then and now, we are given a glimpse of the universal meaning of the events that took the lives of these Jewish men.

Our collective commemoration will ensure that they will be remembered every year on September 5.

Please join us in our effort to recognize these 11 men as fathers, sons, brothers and athletes - YOU can be a part of making this event in Israel's history last FOREVER by demonstrating that the memory is not for Israel alone to protect.
---
Shot during the initial break-in:
Moshe Weinberg (wrestling coach

Yossef Romano (weightlifter)
Shot and killed by grenade in the eastern helicopter D-HAQOD-HAQO:
Ze'ev Friedman (weightlifter)

David Berger (weightlifter)

Yakov Springer (weightlifting judge)

Eliezer Halfin (wrestler)
Shot in western helicopter D-HAQU:
Yossef Gutfreund (wrestling referee)

Kehat Shorr (shooting coach)

Mark Slavin (wrestler)

Andre Spitzer (fencing coach)

Amitzur Shapira (track coach)
---
More on Munich:
---
MUNICH VIRTUAL MEMORIAL WALL