Salute to Our Veterans
by Nancy Chaikin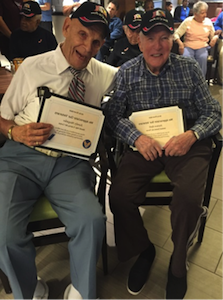 Atria Riverdale is an assisted living community, home to nearly 180 senior residents in the Bronx, New York. Veterans Day is always a special day of remembering and honoring the achievements of those who served. Among our residents are many WWII veterans, women who were called to action on the home front, survivors of the Holocaust, and those who sacrificed and endured throughout the Depression and the war years.
Sadly, as each year passes, our "Greatest Generation" is a vanishing generation. As program director for the community, I wanted to plan something very special this year. Our Veterans Day agenda was shaping up to include a visit from MAJ Jordan Brehove and MAJ Michael Nguyen, Army Reservists and veterans of Operation Iraqi Freedom. They would be presenting certificates of appreciation to our Atria veterans and home front workers. MAJ Nguyen, who joined us last year remarked, "I really value the commitment, heart, and dedication the veterans at Atria have.
Hearing their stories last year was very meaningful for me and their generation offered something truly unique that I'm constantly in awe of. I've told some of their stories at least a few times at work, with friends or at home. Absolutely I'm interested in coming back. Veteran's Day is meant to be spent honoring our Veterans."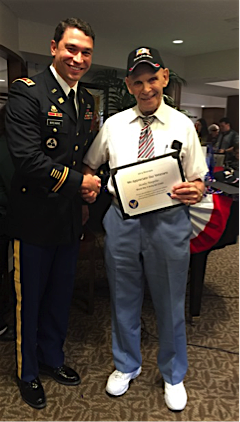 Also on the agenda was a visit from our local Congressman, Eliot Engel, who during his time in Congress has traveled to Israel many times, including a recent trip with President Obama. Rep. Engel has remained "committed to the unbreakable bond between the United States and Israel."
Recently, an Atria colleague told me about the Lone Soldier Project. I thought about our residents and felt they would be interested in learning more about it for a number of reasons. I knew that our "senior veterans" would relate to the experiences of a young American soldier far away from home and family.
Second, Atria Riverdale has a largely Jewish and pro-Israeli population, many who have visited Israel and have family there as well. In addition, we were going to host thirty guests of Selfhelp, an organization founded to provide services to these very men and women, victims of Nazi persecution. I was certain our audience would be eager to meet and hear personally from a young soldier who was proud to wear the uniform of the Jewish army.
I reached out to the Lone Program Chair, Ricki Meyer, for assistance. Although I gave her a very tight time frame to find someone, Ricki not only responded back to me with lightning speed – she amazingly succeeded in connecting us with a speaker and offered invaluable guidance and insight for a successful event.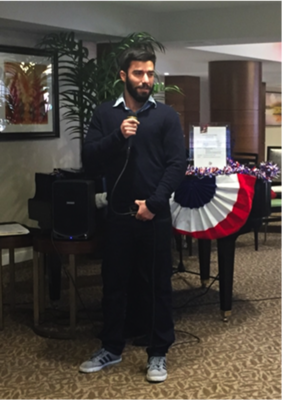 Israeli Army Veteran and Lone Soldier, Shmuel "Shmuli" Goldis, a Florida native and now a student at New York University, readily agreed to visit Atria to speak to our residents. As it turned out, Shmuli was just as interested in meeting and hearing from our veterans. "I would love to stay and talk a little with the veterans… I always love to hear their stories and experiences. It would be an amazing opportunity to hear from those who served before me."
Our audience embraced him. They enjoyed his stories of serving as a paratrooper in the Israeli Army (2013-2015), his honesty about being warned by Israeli fighters that "you don't know what you are getting yourself into – run while you can," his poetic descriptions of jumping out of a plane and "floating over this tiny country of Israel with birds in flight," and for being a symbol of hope for the future of Israel. They were so proud of him and stood in line to shake his hand and thank him, shared their own stories and talked of past visits to Israel. There were also a few questions about his marital status, which he deflected humorously and respectfully, "I'm too young to get married – and first I have to finish school!"
It was indeed a very special Veterans Day, with thanks to the Lone Soldier Project of the Israel Forever Foundation, the Veterans of Operation Iraqi Freedom and our very own Atria Veterans, the "Greatest Generation." To all, we salute you!
---
Recommended:
---
SUPPORT LONE SOLDIERS ON THE FRONT LINES