Shalom My Friend: A Letter to a Lone Soldier
By Luisa Peress
Had I known your address, I would have sent you a letter.

Had I known your name, I would have imagined your face.

It is difficult to write to someone whom I can't imagine, but I know this letter can do at least a bit of good, so here I am.



I hope these words find you well and that you are not reading it alone. I hope you can share this little moment with someone. Solitude can be lacerating. I've been through it and believe it or not, I've been through it even in London, from time to time!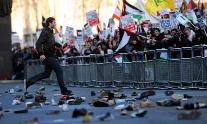 But how come, you could ask...
I am studying medicine in London, am I not supposed to be surrounded by people?
Yes... but the vast majority would prefer Israel didn't exist.
The vast majority doesn't like us.
Now things are better, there's so many programs for students of the Jewish community and everyone is so friendly! It's like a big, big family, believe it or not (I didn't believe it myself, until I experienced it). It doesn't seem to be between the cold-hearted English people, the atmosphere is very warm and I feel finally safe!
But I did feel lonely, and I did feel like a soldier.

Fighting for justice.

My fight was not a physical one, it was one of words and thoughts: on the internet and on university campuses.
There's a lot of anti-Semitism around, false propaganda and some zones of London are already under Sharia law.
People are blind.
It is hard to try and say the truth because I am Israeli. I am labeled as "evil zionist", "racist", "Jewish propaganda person". It's important to have someone to talk with about our problems, whatever they are, they are not insignificant.
I want to THANK YOU from the bottom of my heart. Our home would not exist without your help. I am looking forward to the day I graduate in medicine and finally make aliyah to serve the most beautiful country! :)
Shalom my friend!

Lu.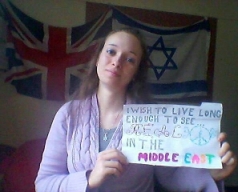 Luisa Peress was born in Slovenia in 1993. She was raised and grew up there until the age of 17, when she was awarded a two-year (2010-2012) full scholarship to study at the United World College (UWC) of the Adriatic, in Italy. She attended the last two years of high school at the UWC, years during which she developed a deep feeling of national identity as an Israeli and belonging to the Jewish people.

In September 2012 she moved to London and is currently studying medicine at Barts and the London Medical School, under Queen Mary London University. Her plans are to stay in London until she finishes university and subsequently, to make Aliyah.
---
Recommended for you:
---
SUPPORT LONE SOLDIERS ON THE FRONT LINES