SPIES OF NO COUNTRY
by Matti Friedman
---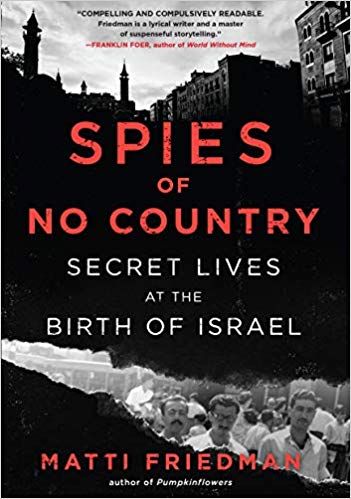 Journalist and award-winning author Matti Friedman's tale of Israel's first spies reads like an espionage novel - but it's all true. The four agents at the center of this story were part of a ragtag unit known as the Arab Section, conceived during World War II by British spies and Jewish militia leaders in Palestine. Intended to gather intelligence and carry out sabotage operations, the unit consisted of Jews who were native to the Arab world and could thus easily assume Arab identities.
In 1948, with Israel's existence hanging in the balance, these men went undercover in Beirut, where they spent the next two years operating out of a newsstand, collecting intelligence and sending messages back to Israel via a radio whose antenna was disguised as a clothesline. Of the dozen spies in the Arab Section at the war's outbreak, five were caught and executed. But in the end, the Arab Section would emerge as the nucleus of the Mossad, Israel's vaunted intelligence agency.
Spies of No Country is about the slippery identities of these young spies, but it's also about the complicated identity of Israel, a country that presents itself as Western but in fact has more citizens with Middle Eastern roots and traditions, like the spies of this narrative. Meticulously researched and masterfully told, Spies of No Country is an eye-opening look at the paradoxes of the Middle East.

---
READ MORE
---
WHAT READERS ARE SAYING
"Wondrous . . . compelling . . . In unadorned yet piercing prose, Friedman captures what it was like to be part of the Arab Section . . . Friedman succeeds in portraying the 'stories beneath the stories' that acted as a bedrock to the rise of the Mossad and serve still as a window into Israel's troubled soul." - New York Times Book Review
"One of the most compelling, compulsively readable histories I've read in a long while. Matti Friedman is a lyrical writer and a master of suspenseful storytelling. His gripping spy story doesn't just narrate Israel's heroic founding—it illuminates its tortured present." - Franklin Foer, author of World Without Mind
"Spies of No Country is thrilling, moving, and, like everything that Matti Friedman writes, deeply humane." - Nicole Krauss, author of Forest Dark
"Spies of No Country, the third book by the Israeli journalist, shares the gripping and previously untold stories of four Mizrahi Jews who took part in a spy unit called the Arab Section. Friedman's approach to this often untold history of Israel is a refreshing one – and has been taboo for many writers. The rich history of Eastern Jews, including the critical role they played in establishing the State of Israel, should not be minimized or erased by the superficial biases of Western scholars. Thankfully, Friedman's groundbreaking book provides a vital example of how to avoid just that." - Jerusalem Post
"Friedman tells the fascinating story of the Arab Section . . . At that time, Israel was many things, and the author deftly navigates the complicated identities and the stories beneath the stories. An exciting historical journey and highly informative look at the Middle East with Israel as the starting point." - Kirkus Reviews
"A fine, moving piece of writing, told with simplicity and artistry." - Benny Morris, author of 1948: A History of the First Arab-Israeli War
"Matti Friedman shows us how an heroic little band of Jewish spies from Arab countries helps explain the political and cultural transformation of Israel from its European Jewish origins into the largely Middle Eastern country it is today. With Spies of No Country, Matti Friedman proves that he is one of the essential interpreters of Israel writing today." - Yossi Klein Halevi, New York Times bestselling author of Letters to My Palestinian Neighbor
---
DISCUSSION QUESTIONS

What did you learn from reading this book? What surprised you?
Isaac Shoshan started life as Zaki Shasho, and spent years as Abdul Karim. Each name reflects different experiences, but all of those experiences were real. So what is his real identity? What does it mean to build an identity?
The agents underwent training in Arab culture to become "mista'arvim". But Friedman writes (p. 58), "Something complicated was happening in that tent….Who were these men? They were certainly not Muslims, which is why they had to learn Islam. But were they Arabs? They would have said no, and most Arabs would have said no. But they were native to the Arab world—as native as Arabs. If the key to belonging to the Arab nation was the Arabic language, as the Arab nationalists claimed, were they already Arabs?" What do you think? Were these Mizrahi Jews Arab?
Why is the story of the Arab Section important to tell? There were plenty of Palmach units fighting in the War of Independence whose individual stories are not publicly known; why did Friedman choose this group to write about?
Friedman quotes Israeli writer Yonatan Ben-Nahum, who writes that for the Jews in the time of British Mandate Palestine, "ethnic impersonation isn't a military doctrine used by sophisticated generals intent on victory, but the survival method of a persecuted wanderer who concealed his origins to save his life" (p 96). What do you think of this statement? Do you agree? Is it still relevant today? Is it true everywhere? Do you think the idea is specific to Jews or to any minority?
Why does it matter that, as of 2017, all of the top 15 pop songs in Israel were from Mizrahi artists? What does that say about Israel today, and how does it change our understanding of the country?
When you think of Israel, do you think of it as a Western influenced country or Middle Eastern? In what ways?
Think about the title, Spies of No Country. What did that mean for the agents? Was it true that they had no country? They later referred to themselves as Israeli spies, but when they left in 1948, they were not Israelis as there was no State of Israel. History shows us that geopolitical borders can change, that demographics can shift, and that a birth place is not always a homeland. So what makes a country, or a nationality?
---
The Reading Israel Book Club: Bring us to your community and be inspired!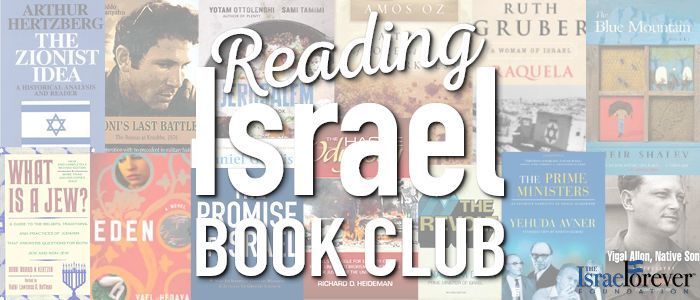 Throughout the year, the Reading Israel Book Club of Israel Forever brings you a new literary delight to grow your Israel connection through the written word.

We hope that you enjoy our selections and participate in discussion not only with your friends and family but with an international community of readers in our open discussion group on Facebook.