Tension, History, Hope: A Lone Soldier in Hebron
By Tamar Shmaryahu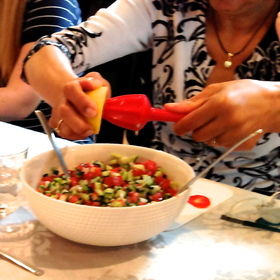 The kitchen was full of tomatoes, cucumbers, gamba (bell peppers), olive oil, lemon and salt. My commander sent me a text to help out in the kitchenette to chop salad for the al ha'esh (BBQ) pre-Pesah. The pkida was in charge.

I started with the cucumbers. My julienne was not fine enough for her taste. Within a few attempts - and chuckling at myself and the situation - she had kicked me out of the kitchenette. She had claimed that some people won't even touch a salad given the thickness of my cut.
I am different.

I speak differently; my method of sponga (the process of cleaning with a squeegee-like device) is slower, I don't freak out every two seconds. I don't communicate to my peers with the untranslate-able Israeli slang, I'm not automatically grossed out by the food in the heder ohel (dining room), and I do cut the salads slightly differently.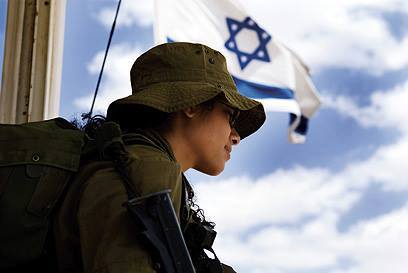 I don't pass a day without being asked why I joined this army with either faces of befuddlement or inspiration. I don't pass a day without being passed by a guy calling "Hey, gorgeous!" or mimicking "Oh, wow!". I didn't think that part of joining the army would involve being "the American girl".
I thought integration would be easier and more welcoming. I also thought that people would be happier or not as miserable as I've seen some people here. A major reason I joined the army was to understand the Israeli culture more in-depth.
I am not kravi (combat), in which I would be placed in rough conditions for long periods of time with a select few others forced to forge an ever-lasting bond. Rather, I am the international organizations liaison for Hebron sitting in an office responding to human rights violations.

It's been difficult though to get into the social scene or to even have the desire to do such. The hardest part of the army is not the challenges of my position or the inedible food; it's connecting to the people around me.
There have been a lot of disappointments, but that does not mean I'm disillusioned. It's hard in the army. It's also a decision I will never regret and spent long and hard deciding.
It's hard because you balance between two worlds: the Sunday-Thursday life and the Shabbat life. 
Because you have to follow orders even though they logically make zero sense.
Because at 22-years old and a Bachelor's degree I find myself plucking weeds for hours and cleaning toilets.
Because on erev Pesah I must return for half a day to base simply to pass the misdar Pesah (Passover order review) for the commanders to ensure everything is clean for the holiday).
Because I am stopped by the military police for wearing black leggings under my skirt as opposed to skin-colored tights or because I have a heart attack on the bus 10 minutes away from my kibbutz for forgetting my diskit (dogtag).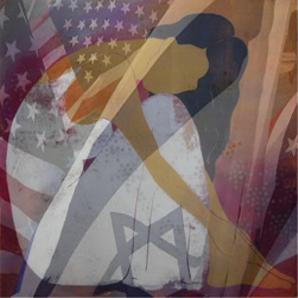 It's also about living in another two worlds: my new reality as a soldier in the IDF and my whole life in America.
I took this job because I understand the international organizations' perspective about human rights. I grew up in a liberal environment in which someone who was against gay marriage was seen as unbearable. Since Israel is seen by the international community as the 'occupying power,' it is under Israel's responsibility to ensure the normalcy of life and safety of all the citizens under its rule according to international law.
In the course, I had so many questions about our unit, but the commander reminded me I am no longer in a liberal arts college and have yet to get used to what it means to be a soldier in the IDF.
Something I can say about my army experience is that I'm at the heart of the conflict.

Hebron is the most populous area in the West Bank of Palestinians and the most dangerous. Every day there are Molotov cocktails, stone-throwing, or burning tires. Just last week I had rocks thrown at my bus from Bayt Ummar (a town very close to route 60 that runs through Judea and Samaria) and no one reacted. Everyone is immune. This is normal life for locals.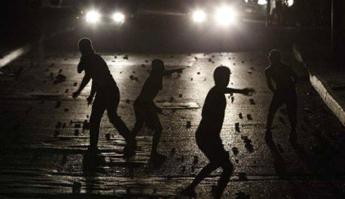 There has been a lot of recent uproar in the news about stone-throwing. Is it an attempt for murder or a justified rebellion of an oppressed nation?

Just over a month ago, a two-year old was found in critical condition as a result of stone-throwing outside Ariel. However, articles in left-wing Israeli newspapers are asking an alternative for Palestinians to express their frustration towards the "occupying power". Driving throughout Hebron there are adorable children roaming the streets. They play with stones because maybe there is nothing else for them to play with. The streets are so narrow and the buildings circa Ottoman era are still crumbling. The whole city is depressing.
All the stores are closed since the Goldstein massacre in 1994 resembling a sense of abandonment. There are 200,000 Arabs and 700 Jews in the just the city itself. Try justifying the IDF's presence in Hebron with those statistics.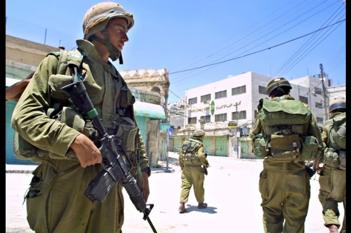 But I really wanted to be in Hebron actually. I asked to be here for the challenges it would bring to me and to understand two conflicting, yet cooperative perspectives of the international community and the IDF. The international community finds our presence here illegal: military and citizen.

Since the Oslo Accords the West Bank is divided into three sections: Area A (security/citizen under Palestinians rule), Area B (citizen is under Palestinian rule and security under Israeli) and Area C (security/citizen under Israeli rule). Hebron is unique to be split up into H-1 (Palestinian rule) and H-2 (Israeli rule).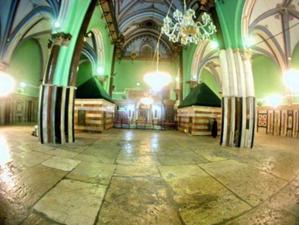 I would describe the area as an intense beauty.

From a religious and historical perspective, Maarat HaMachpela (Cave of the Patriachs-burial of Abraham, Issac, Yitzhak, Sarah, Rivka, Leah) is the second most holy site to Jews and the first Jewish purchase of the land in the Land of Israel. I think, like anywhere in Israel, Jews have a right and a privilege to this area. I believe it is bold what the citizens are initiating by living here. On the other hand, the residents happen to be extreme and cannot reconcile between religiosity and real-life (e.g. the Israeli legal system, or international opinion).
The reality in which the settlers live in Hebron is not easy, and it is violent. It's not the bed of roses most Jewish children grow up in. These children grow up in an atmosphere of rocks and burning bottles. It makes sense for them to have a biased view of their neighbors.
So how has my experience thus far impacted my opinions?

I think the international community must recognize our historical and religious connection to the land. They must also comprehend that there is completely legal ownership (documents to back up) of land in the territories. From the other side, the Palestinians must realize their leadership is flawed and unify for the benefit of their people.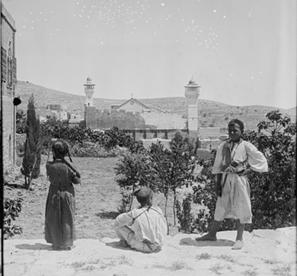 I am afraid that too often the outside world sees the negative side to settlement life in the territories and not the positive. Attending the Yom HaAtzmaut ceremony right outside Ma'arat HaMachpela felt as though to be part of the beginnings of the State of Israel. I felt as though surrounded by pioneers who are willing to give up on the comforts of being in the center of it all to be close to a holy site they believe must remain under Jewish possession.


When it comes to ownership though you can show however many papers you wish, but what it comes down to is about an emotional ownership. One of belief and one no one can dispute.
Every Thursday when I get off, I travel back to Jerusalem and walk through Mahane Yehuda market to visit my grandfather in the Nakhlaot neighborhood. I breathe in the air of Jewish life and a calm overcomes me that I'm home out of the army. He asks me where I serve and I remind him that I am in Hebron. He tells me the Arabs don't want peace and in Hebron they are extreme and I must be careful.
And throughout all of this I have the excitement to return. Bike rides through the fields of my kibbutz, dinners with my host family, Shabbat mornings at maagal Shabbat (hearing everyone's stories about the week), or walks through our land are pieces of paradise that I help me thorughout each week of my service amid the tension.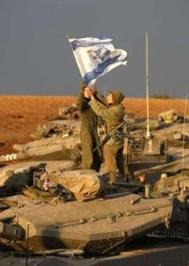 It reminds me of the Amos Oz-described tension between the Diaspora and living in the Land of Israel. He speaks of the Old World whilst living in an era of a Jewish dream becoming a reality.

I suppose even when dreams become a reality, our past is always a part of us. Memories and experiences will be a part of us, wherever we go…
I am surely not the first to feel this tension and not the last.
Tamar Shmaryahu is a former lone soldier in the IDF, graduate of Yeshiva University and made aliya in August 2012. She enjoys Friday mornings with her 102-year old Jerusalem grandfather over fresh Turkish coffee, deep philosophical conversations, and kicking it back with her Garin. She hopes to spend the rest of her life in Israel, growing and fulfilling dreams with her new husband Avi, a fellow former lone soldier. You can see more on her blog, THE JUNGLE.

If you believe in our right to our ancestral homeland, sign your name to the historical Balfour Declaration and join our effort to collect 1 million signatures by the 100th anniversary as a demonstration of international recognition of the Jewish State.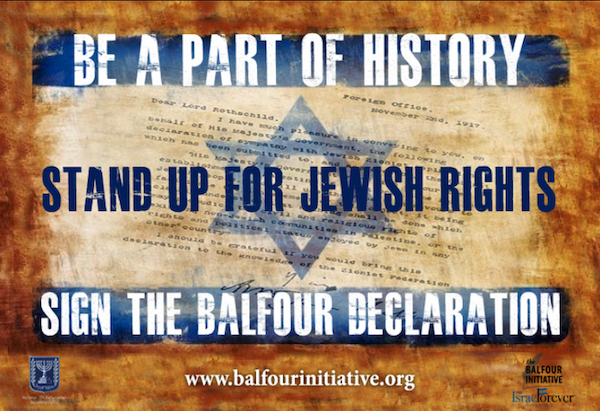 ---

Learn More About Lone Soldiers and our Lone Soldier Project