Tu B'Av: An IDF Love Story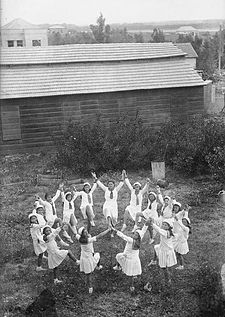 Tu B'Av - טו באב, the 15th Day of the Hebrew month of Av, was celebrated in the time of the Second Temple period (before the fall of Jerusalem in 70 C.E.) marking the beginning of the grape harvest.

It also served as a matchmaking day for unmarried women. The unmarried girls of Jerusalem dressed in white garments and went out to dance in the vineyards.
Today in Israel, it is celebrated as a holiday of love, Hag HaAhava (חג האהבה), similar to Valentine's Day.
After the sorrow of Tisha B'Av and the challenges of life under fire, we could not help but tell a personal love story from two Lone Soldiers that celebrates Judaism's own 'Day of Love'!
Robert was born in Germany months before the fall of the Berlin Wall. He grew up in France and Belgium and finished High School in Brussels.

"I just started University when Operation Cast Lead began. My grandparents, though not Jewish, used to live in Israel and I visited the country twice every year as a child. During Cast Lead one of my friends was injured in battle and that made me understand that I too should take an active stand for Israel's safety." 

"I moved to Israel and within several months I had already enlisted. One day during my service I had to take a bus to my base near Karmiel, and that's where I met Rebecca."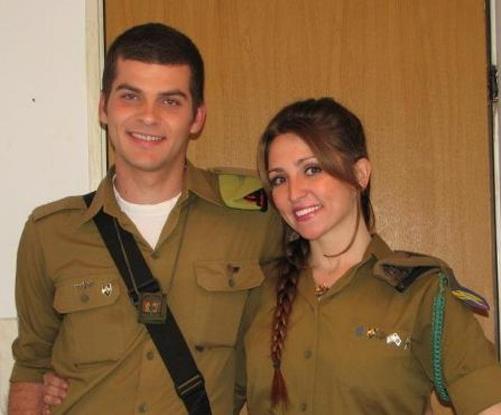 "I volunteered to the IDF in 2006 after Aliyah from Hawaii and was assigned to the same base as Robert", says Rebecca. "That day when I took the bus to base, I wanted to put my huge backpack into the trunk and accidentally got myself caught in the trunk just as the bus driver closed the doors." 

"Robert saw what happened and alerted the driver. He saved my life. We sat next to each other on the bus and talked a bit. Robert kept looking at me and all I could think was that I had never had a guy this cute look at me."
The two didn't meet again until two weeks later when they ran into each other at the bus-station in Binyamina. They began talking again and Rebecca regretted not having taken his number the first time they met, so this time she gave him her's.
"We arranged two dates but had to cancel both of them for different reasons and ended up not hearing from each other for five months. At some point I thought that he had forgotten about me. After about another two months I reactivated my Facebook so I could stay in touch with my mom and saw that he had sent me a message asking for my number because he had lost it - he hadn't forgotten about me after all. So I sent him my number again and he called and we finally met that same weekend after I came back home from my base."
Rebecca returned home only to find out that her roommate had trashed their apartment during a big party. Just as she was standing in all the mess, Robert called to tell her that he was a few minutes away and asked her to come pick him up. After a great day together, Robert asked her to be his girlfriend, but Rebecca said no. She was already extremely busy with the army and didn't think that she could split her time between the army and a boyfriend.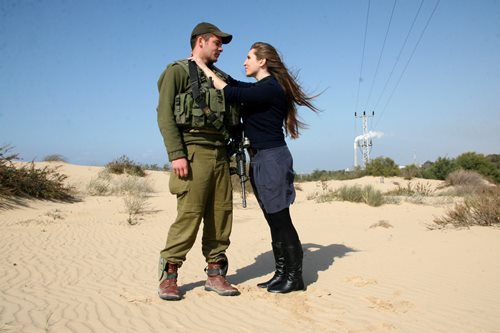 But this wouldn't be a romantic story if Robert had just given up here.
Undeterred, he kept calling her after this; they didn't, date but remained friends. One night when he called to speak to her, Rebecca was on guard-duty so she couldn't answer.

Robert left her a simple message: "I love you!"
"We started dating again and it didn't take me long to realize that I loved him too. Our first kiss was like in the movies. We we're out for a walk and just as the sun was setting, Robert kissed me. It was the most amazing kiss of my life."
The young couple kept on dating and one day Robert asked his love to marry him after they get released from the army. Obviously she said yes, but only under the condition that he ask her father first. So when Rebecca's father came to Israel for a visit, Robert did just that.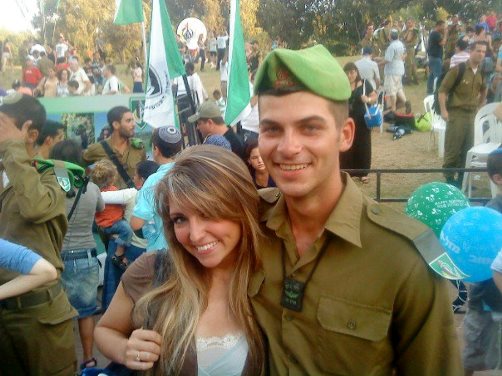 Rebecca and Robert got married on the 27th of June, the same date that Robert's grandparents tied the knot many years ago.
Previously published on the IDF Blog
---
Recommended for you:
---
SHARE YOUR TU B'AV STORY