Understanding Lone Soldiers #4: Reality in a Snowstorm
by David Besnainou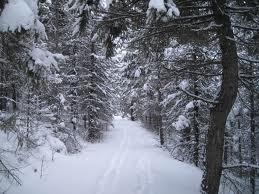 I relax in a chalet, secluded from civilization and away from the constant hum of society. Woods covered in snow surround me. The trails outside are engulfed in white velvet that blends into misty surroundings. As I sit back and peek at unfamiliar trails, I sink into the comfort of my couch and am protected by the warmth of a fireplace. I am happily content with my languid disposition.
Soon though, my stomach begins to churn and I feel propelled to surpass myself, to run through the woods and reclaim my youthful zeal. A blazing vigor overtakes me.
I slip on my trainers and peek outside. Like a timid grizzly bear, I venture back indoors to change my damp socks and dry my wet heels. My shoes are inadequate. Clunky strongholds must protect my feet from the clammy snow outside. I decide to run in snowboard boots while a winter hat and ski gloves protect my extremities.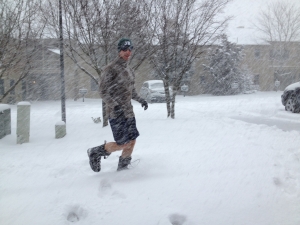 I look like a yeti and start running. I bump up and down hills and can barely see through the snowfall. Engulfed in arctic attire, I feel disconnected from my body and begin to see the world in slow motion.
It would have been easy to sit back and relax. This was especially true during my winter vacation, when I felt tired and was trying to regain my strength. However, the fear and exhilaration of running a race propels me to constantly train and work toward a challenging goal.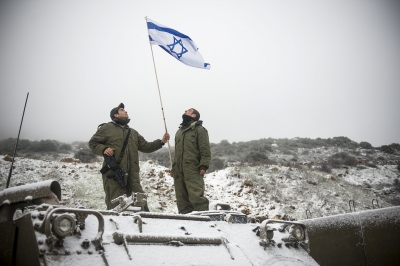 Recently, when Jerusalem welcomed a snowstorm, children played while Lone Soldiers were out in the cold, proudly defending Israel.
Many people pray for peace between Israel and its neighbors. They desperately hope that Israel will soon become a peaceful state that continues to be a beacon of democracy.
Among the many who believe in this ideal, a few thousand young adults deem it so important that they change their life track - They leave the comfort of their homes to trek unfamiliar territory and defend Israel.
Running in the snow turned out to be an essential part of my training as it allowed me to relate to the daily difficulties of Lone Soldiers as they endure erratic weather conditions to uphold peace in Israel.
Did you also run during a winter storm? How did you keep warm? Please share with me your experiences, info@israelforever.org!
---
Join me on my journey from the beginning!
---
SUPPORT LONE SOLDIERS ON THE FRONT LINES