SIMCHAT TORAH
---

SIMCHAT TORAH IS AN EVOLUTION OF THE BIBLICAL HOLIDAY SHEMINI ATZERET WHICH FOLLOWS IMMEDIATELY AFTER SUKKOT
The name of Shemini Atzeret tells us when the holiday occurs – "Shemini" means eight in Hebrew and "Atzeret" is assembly (or rally) – in other words, this is the eight day after the seven days of Sukkot.
The fact that this holy day has a name of its own but immediately follows Sukkot teaches us that although distinct, the two holidays are connected.
Outside Israel, Shemini Atzeret is a two-day holiday and the Simchat Torah festivities are observed on the second day. The first day is referred to as "Shemini Atzeret" and the second day as "Simchat Torah", although both days are officially Shemini Atzeret according halacha.
In Israel, Shemini Atzeret and Simchat Torah are celebrated on the same day. Many communities in Israel have Hakafot Shniyot ("Second Hakafot") on the evening following the holiday, which is the same day as Simchat Torah evening in the diaspora.
---
FULL CYCLE OF THE TORAH
Every year we complete a full cycle of reading the Torah and, immediately begin again. Although the portions never change, as we change and the world around us changes, the Torah portions provide new and growing insights.
SIMCHAT TORAH IS THE JOYOUS CELEBRATION OF THE TORAH, THE GIFT THAT CHANGED OUR PEOPLE AND, IN TURN, CHANGED THE WORLD
The practice of reading the last of the weekly Torah portions on Shemini Atzeret is documented in the Talmud. That Talmudic source does not refer to the occasion as "Simchat Torah", but simply as [the second day of] Shemini Atzeret.
The Simchat Torah celebration of today is of later rabbinic and customary origin – in Second Temple times Shemini Atzeret appears to have been a day devoted to the ritual cleansing of the altar in the Temple. After the destruction of the Temple the ritual became obsolete, what remains is the year's first prayer for rain.
The day (but not the name Simchat Torah) is mentioned in the siddur of Rav Amram Gaon (9th century CE). We also find references in the 14th century halachic work Arba'ah Turim. By the 16th century CE, most of the features of the modern celebration of Simchat Torah were in place in some form.
Elie Wiesel related the difficulties and meaning of Simchat Torah in times of terrible adversity:

"The Gaon of Vilna said that ve-samachta be-chagekha (You shall rejoice in your festival; Deuteronomy 16:14) is the most difficult commandment in the Torah. I could never understand this puzzling remark. Only during the war did I understand. Those Jews who, in the course of their journey to the end of hope, managed to dance on Simchat Torah, those Jews who studied Talmud by heart while carrying stones on their back, those Jews who went on whispering zemirot shel Shabbat (Hymns of Sabbath) while performing hard labor . . . ve-samachta be-chagekha was one commandment that was impossible to observe—yet they observed it."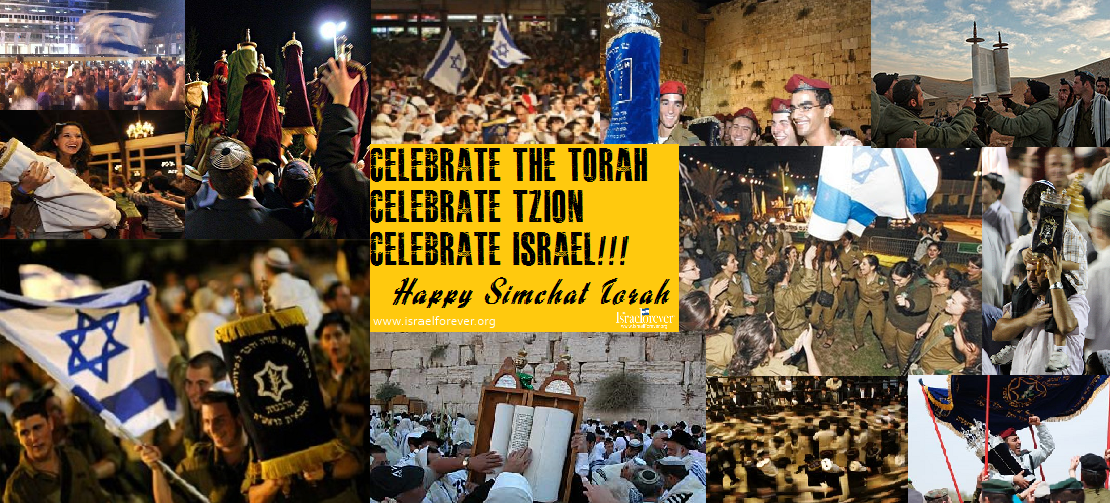 ---