7 Species Salad
Salat Shivat HaMinim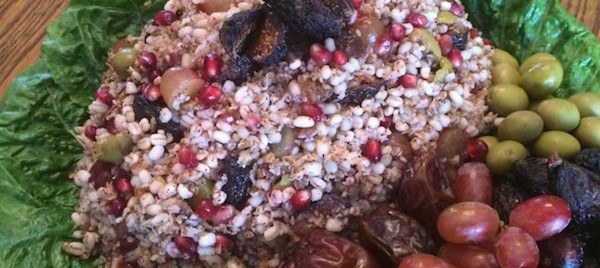 Serving Size: 4 to 6
Ingredients
● 1 Head of Romaine Lettuce
● 1/2 - 1 cup pomegranate seeds
● 6 to 8 figs, quartered
● 1 - 1/2 cup seedless (or deseeded) grapes, halved or quartered
● 4-6 dates, sliced
● Olive oil and balsamic vinegar (amount based on personal preference)
● 1 cup Homemade Barley and wheat croutons
● 1 cup Goat cheese (Feta or Israeli Bulgarit)

Dressing

● 1/4 cup Bee or date honey (eretz zavat chalav u'dvash!)
● 1/4 cup Israeli olive oil
● 4 tablespoons balsamic vinegar or lemon juice

Optional
● 1 cup Bulgur, Quinoa or Barley
● 1 cup walnuts or seeds of your choice
Directions
Combine all the above mentioned ingredients and drizzle the dressing on top.
To make homemade croutons
Cut bread into bite-sized pieces and toss into a large bowl.
In a separate container, combine olive oil and some favorite spices - oregano, basil, thyme, garlic, and of course salt. Shake/stir really well to get all the flavors combined.
Pour dressing over the bread cubes and shake up to evenly distribute the flavor.
Spread out the croutons on a baking tray or casserole dish.
Bake at 200°C to 225°C (400°F to 450°F). After about 7-10 minutes, shake the tray to make sure croutons are evenly cooked. Feel free to drizzle another bit of olive oil on them! Bake another 7-10 minutes, until they reach the color and crispnes that you prefer.
BeTeavon and ENJOY!
---
More Recipes:
---
Bring Tastes of Israel into your Kitchen!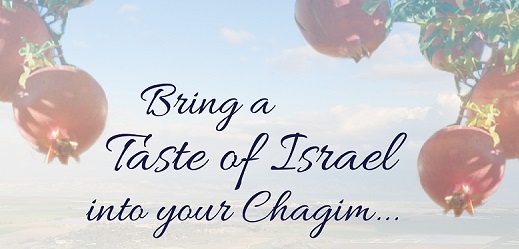 Let the aromas and flavors remind you of Israel, far away, but forever in your heart and in your life!

Click HERE to download our FREE Cooking Israel Cookbook.