Almond Butter Cake
Serving Size: 8 to 12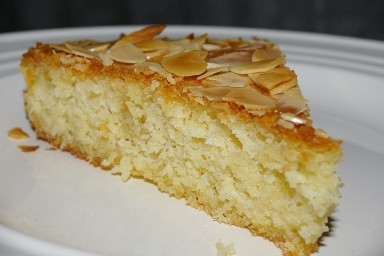 Pastry Ingredients
● 2/3 cup cake flour
● 1/4 teaspoon baking powder
● Pinch of salt
● 4 eggs
● 8 oz almond paste
● 1 cup granulated sugar
● 11 tablespoons (5 oz) butter
Directions
To make the pastry: Grease and flour the pan generously and carefully (for the square pan, grease, flour and line with parchment paper).
Preheat oven to 350-degrees and place rack in lower third of the oven.
Sift together cake flour, baking powder and salt. Set aside.
In a small bowl, whisk the eggs together just to combine yolks and whites.
Place almond paste in the bowl of a heavy-duty mixer.
With the flat paddle, beat it on low for 30 seconds.
Add sugar in a steady stream and beat until incorporated — about a minute.
Add butter one tablespoon at a time.
Increase mixer speed to medium and cream until mixture is smooth, light in color and fluffy –about 3-4 minutes. No lumps of almond paste should be visible.
With the mixer still on medium speed, pour in the eggs, cautiously at first, tablespoon by tablespoon, as if you were adding oil when making mayonnaise, and then slightly faster.
Once all the eggs are incorporated, continue beating until mixture again attains a light color and fluffy texture.
With a spatula, stir in the flour mixture and mix until smooth.
Pour batter into the prepared pan and bake for 35-40 minutes, or until the top is golden brown and a toothpick inserted near the center is removed free of cake.
Place the cake on a rack to cool for about 5 minutes and then turn it out onto the rack to cool completely.
To serve, fill the middle with a medley of fruits- either fresh or dried – and toasted almonds! If serving it with 24 hours or so, store the cake at room temp. It freezes beautifully.
BeTeavon and ENJOY!
---
More Recipes:
---
Bring Tastes of Israel into your Kitchen!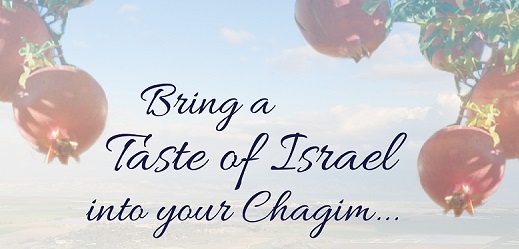 Let the aromas and flavors remind you of Israel, far away, but forever in your heart and in your life!

Click HERE to download our FREE Cooking Israel Cookbook.