Artichoke & Nana Pititim
("Israeli Couscous") with Feta and Almonds
Serving Size: 12-16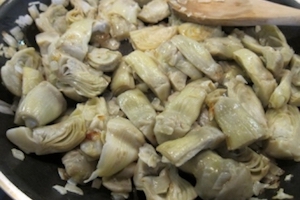 Ingredients
● 1 Lemon, juiced 5 medium artichokes or 2 pounds Artichoke bottoms or hearts, as preferred or as available (in Israel it's pretty tough to find the hearts…)
● 1 tablespoon plus 1/4 teaspoon Kosher Salt
● 1 1/4 cup Ptitim (Israeli Couscous)
● 6 tablespoon Extra Virgin Olive Oil
● 1 Red Onion, diced
● 3 Garlic cloves, crushed and peeled
● 1/3 cup slivered Almonds
● 3 tablespoons chopped fresh Nana (Mint)
● 3 tablespoons chopped fresh Dill
● 1/4 teaspoon Black Pepper
● 1 cup crumbled Feta Cheese (4 ounces)
● 2 tablespoons Lemon Juice
Directions
If using whole fresh artichokes:

In a large bowl, add juice of 1 lemon to water. Rinse artichokes and rest in the water as you work on the cleaning.
Slice off the top third and bottom of stem of each artichoke. Discard the outer leaves, pulling away the dark skin from the base. Trim away the dark skin from the base, and the bottom of the stem. Dip artichokes in lemon water after each cut (helps to keep them from browning).
Slice the artichokes in half lengthwise. Using a teaspoon spoon, scoop out the hairy chokes inside, pulling out any purple leaves and cut the remaining artichoke meat into 1/2-inch-wide pieces.

For both fresh artichokes or artichoke pieces:

Fill a large pot with water. Add 1 tablespoon of salt and bring mixture to a boil. Add the artichokes; lower the heat, cover, and simmer 5 to 7 minutes until tender. Remove with a slotted spoon to a large bowl.
Add 2 tablespoons of olive oil, 1 teaspoon of salt, to dry ptitim. Add hot artichoke water to ptitim - (In general it is 1 1/4 cup water to 1 cup ptitim) – and bring to a boil. Stir once with a fork and cover (wrap the cover in a towl – special secret to best texture!). Reduce heat to lowest possible setting and let steam for 20 minutes. When done, fluff with FORK not spoon!
In a saucepan, brown almonds over medium heat. Toss occasionally until golden. Transfer to a bowl and set aside. In same saucepan, heat 2 tablespoons of olive oil and sauté onion and garlic. When browned, remove from heat.
Mix together warm onion and garlic mixture, ptitim, mint, dill, salt, and pepper. Pour mixture over artichokes. Sprinkle with crumbled feta cheese and toasted almonds and drizzle with olive oil and lemon juice.
BeTeavon and ENJOY!
---
More Recipes:
---
Bring Tastes of Israel into your Kitchen!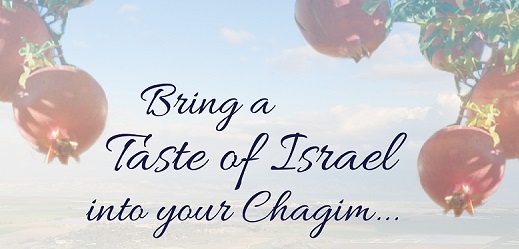 Let the aromas and flavors remind you of Israel, far away, but forever in your heart and in your life!

Click HERE to download our FREE Cooking Israel Cookbook.