Israeli Pumpkin Couscous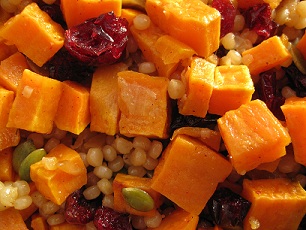 Ingredients
● 2 ½ Tbsp instant yeast
● 2 cups couscous
● 2 cups pumpkin, cubed
● ½ tsp. turmeric
● ½ tsp cumin
● ½ tsp brown sugar
● 2-3 cloves of garlic, minced
● 1 cup red pepper, diced small
● ½ tsp. salt (to taste)
● 1 Tbsp chopped parsley
● ½ cup pumpkin seeds
● ½ cup pine nuts
● ½ cup dried cranberries
Directions
Cut pumpkin flesh into 1 in. cubes.
Add 2 tsp. olive oil to a skillet on medium-high heat.
Brown pumpkin on all sides.
Add garlic, turmeric, cumin, sugar and red pepper and simmer until pumpkin is soft, stirring gently to make sure nothing burns. May need to add a touch more oil/butter if so desired.
Add to cooked couscous (preparation method will depend on the type you buy).
Add salt, parsley, seeds, nuts, cranberries and a drizzle of olive oil.
BeTeavon and ENJOY!
---
More Recipes:
---
Bring Tastes of Israel into your Kitchen!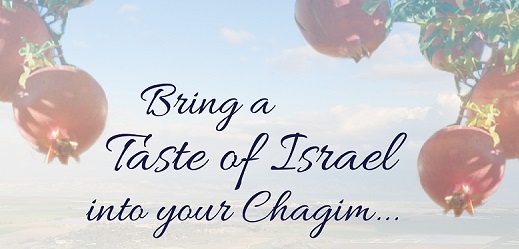 Let the aromas and flavors remind you of Israel, far away, but forever in your heart and in your life!

Click HERE to download our FREE Cooking Israel Cookbook.