Kubbeh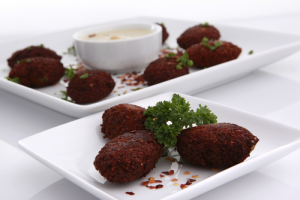 Ingredients:

2 cups beef stock (Vegetable or chicken work well too)
1 cup extra coarse bulgar wheat
1 cup semolina flour
1/4 tsp salt
1 onion, diced
2 tablespoons olive oil
1 pound ground hamburger or minced lamb
2 cloves garlic, finely chopped
6 tablespoons chopped fresh parsley
3 tablespoons chopped fresh mint
2 tablespoons paprika
1/2 tsp. salt or more to taste
1 tablespoon pepper
Juice of 1 lemon
1/2 cup of pine nuts
Preparation:
1) Bring 1 1/2 cup of beef stock to a boil over medium heat and add the bulgar wheat.
2) Boil for 10 minutes and then remove from the heat and add semolina flour and salt.
3) Rest over strainer to eliminate excess liquid. Can blend in a food processor if preferred to make an easy-to-mold dough.
4) Saute onions in skillet over medium-high heat.
5) Add ground meat and begin to brown.
6) Add garlic, parsley, mint, pepper, lemon juice, pine nuts and remaining 1/2 cup of stock.
7) Mix well and cover, let sit over low heat for 20 minutes to absorb the flavors.
8) Turn of heat and let cool.
9) Take a handful of the dough and shape into a ball.
10) Push fingers into the middle to create an egg-shaped "bowl."
11) Fill with a 1 tbsp. of meat filling and cover with another bit of dough until well-sealed.
12) Fry in deep oil until browned on all sides.

B'teavon and Chag Chanukah Sameach!