Stuffed Mushrooms
Cooking Israel with a Puzzle Israel Recipe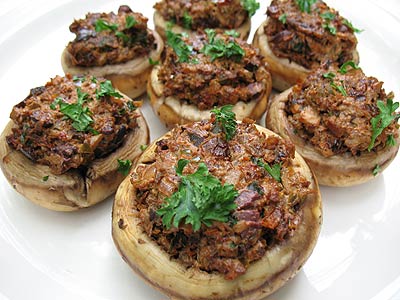 Serving Size: 8-12
Ingredients
15 Large Fresh Mushrooms
2 Red Onions
2 Leeks (separate leaves, wash while rubbing under stream of water)
1 kg Minced Chicken Thighs
1/2 cup Olive Oil
2 Garlic Cloves, already chopped
Touch of Kosher Salt, according to your tastes
Touch of Pepper, according to your tastes
Fresh Thyme (dried, freshly chopped or frozen)
1 Carrot
1 cup Balsamic Vinegar
1/2 cup Sugar
Directions
1) Heat up the oven to 350F. 

2) Finely chop the onions and leeks.

3) Grind the carrot.

4) Chop the minced chicken thighs into small pieces.

5) Cook the onions in a hot frying pan coated with olive oil.

6) Add the leeks and the carrot into the pan and let them cook for a few minutes until all the vegetables are lightly browned.

7) Add the minced chicken pieces into the vegetables and cook until the chicken gets lightly browned.

8) Add a touch of salt and pepper into the mixture.

9) Add the Thyme into the mixture.

10 ) Cut into the mushrooms with a small knife a cup shape in order to insert the chicken filling.

11) Fill each mushroom cup with the chicken filling.

12) Place the mushrooms on a pan and place in the oven.

13) Roast in the oven for about 15 minutes ensuring that they do not burn.

14) Reduce the balsamic vinegar with 1/2 cup of sugar in a small pot over medium-high heat and bring to a boil. Simmer, watching carefully and lowering the heat if necessary until it's a little thinner than you want it ( 2-4 minutes).

15) Take mushrooms out of the oven and add the Balsamic sauce on the top.

16) BeTeavon and ENJOY!
---