Almond Linzer Cookies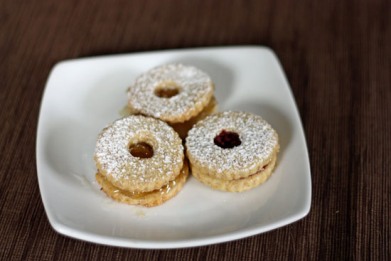 Serving Size: 12 to 15
Ingredients
● 1 1/2 cups slivered almonds (about 5 ounces), toasted and cooled
● 1 1/2 cups slivered almonds (about 5 ounces), toasted and cooled
● 2 1/3 cups all-purpose flour
● 3/4 cup sugar
● 1/2 teaspoon baking powder
● 1/2 teaspoon salt
● 1 cup (2 sticks) chilled margarine, cut into 1/2-inch pieces
● 3 large egg yolks
● 1 teaspoon vanilla extract
● 1 teaspoon almond extract
● 1 cup etrog preserves (or any other jam or marmalade)
● Powdered sugar (optional)
Directions
Preheat oven to 350°F.
Combine nuts and 1/3 cup flour in processor; process until finely ground nuts.
Transfer the mixture to the bowl of an electric mixer.
Add remaining 2 cups flour and next 3 ingredients to the bowl and mix until combined.
Add the margarine and using an electric mixer at low speed, blend ingredients until coarse meal forms (this will take several minutes).
Add egg yolks and vanilla. Beat until moist clumps form.
Gather dough into ball.
Roll out the dough on sheet of parchment paper until it is 1/3 inch thick.
Cut out cookies using a round cookie cutter.
Using a small cookie-cutter or the back of a cake-decorating tip, cut a small window in the center of half the cookies.
Transfer cookies to parchment lined baking sheets, leaving 2 inches between them.
Re-roll the scraps and cut out more cookies in the same way.
Bake cookies for 10 minutes, or until golden brown. 14) Let stand one minute and then transfer to a cooling rack.
Once completely cool place a teaspoon of preserves on top of each solid cookie and top with a cut-out cookie.
Dust the tops with powdered sugar, if desired.
BeTeavon and ENJOY!
---
More Recipes:
---
Bring Tastes of Israel into your Kitchen!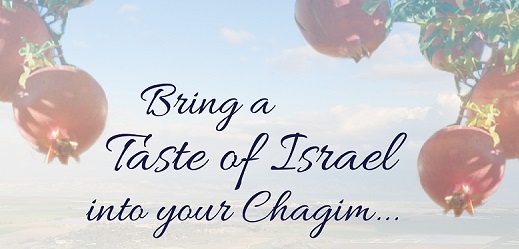 Let the aromas and flavors remind you of Israel, far away, but forever in your heart and in your life!

Click HERE to download our FREE Cooking Israel Cookbook.