Beet tomato and eggplant skewers with lemon-olive oil dressing
Vered Guttman, Haaretz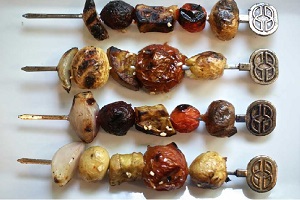 For vegetarian or vegan guests coming to a BBQ, try flavorful vegetarian skewers. These skewers can also serve as a side dish for any meat you make.
Ingredients
● 12 fingerling or baby golden potatoes
● 1 eggplant.
● 12 Small Roma or cherry tomatoes (any tomatoes up to 2 inch round)
● 6 shallots, peeled and halved
● ½ cup Olive oil
● Kosher salt
● 12 store-bought roasted beets

For the dressing

● ½ cup fresh lemon juice
● ¼ cup olive oil
● 2 garlic cloves, minced
● 10 fresh rosemary leaves, crushed
● 1 teaspoon kosher salt
Directions
1. Set oven to 400 degrees.
2. Wash potatoes, put in a tray, cover with foil and roast in oven for about 25 minutes, until fork tender.
3. Remove from oven, set aside. In the meantime, peel eggplant and cut to 1 inch cubes.
4. Put in a colander over a large bowl, sprinkle generously with kosher salt, and let stand for 30 minutes.
5. Wash and dry with paper towel.
6. Soak 12 wooden skewers in water for 30 minutes.

To make the dressing, put all ingredients in a tight-lid container and shake well until incorporated. Set aside.

7. Prepare grill to medium heat.
8. Put potatoes, eggplant, tomatoes and shallots in a large bowl.
9. Drizzle with olive oil and sprinkle generously with kosher salt.
10. Mix with your hands, making sure all ingredients are coated with oil.
11. Thread one potato, tomato, eggplant piece, beet, another eggplant piece and half a shallot on each skewer in this order.
12. Grill for 10-15 minutes, covered and turn occasionally, until eggplant is tender and tomatoes are nicely charred.
13. Carefully transfer to a serving, drizzle with dressing and serve.
BeTeavon and ENJOY! 
---
More recipes using beets and eggplant
---
Bring Tastes of Israel into your Kitchen!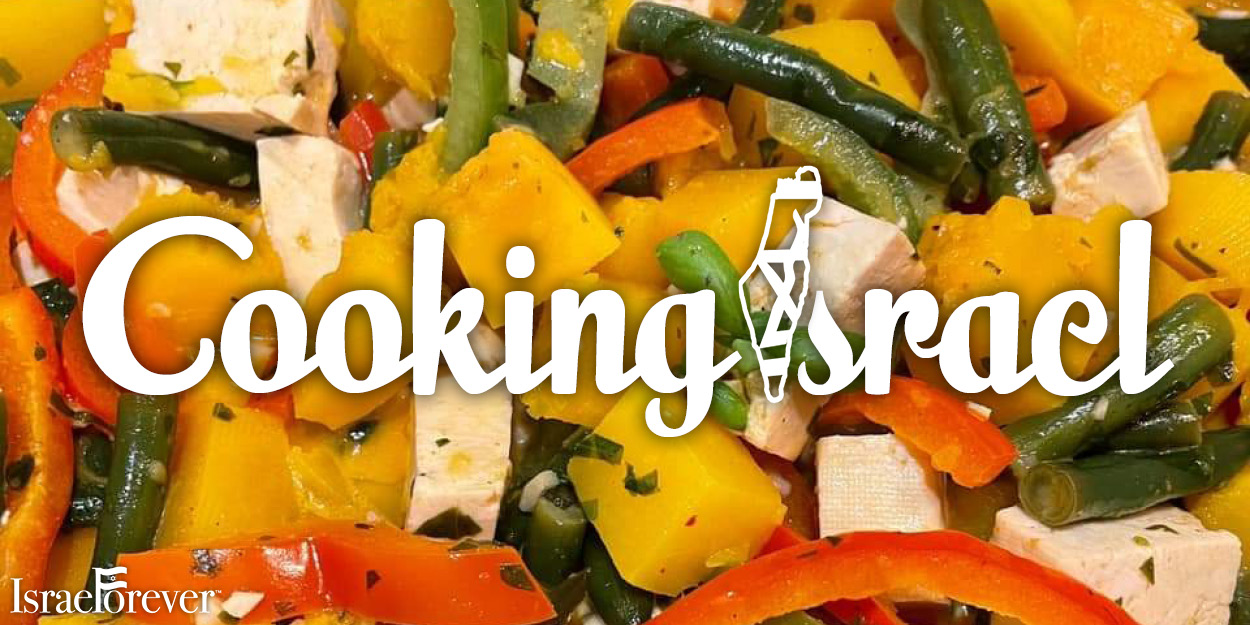 Check out more Cooking Israel Recipes full of aromas and flavors to remind you of Israel today and everyday!

Click HERE to download our FREE Cooking Israel Cookbook.