Best Israeli-Style Vegan Pizza Recipe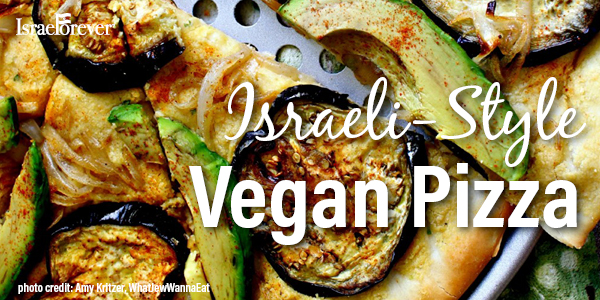 Vegan, gluten free, nut free, and kid friendly
WhatJewWannaEat homechef Amy shares her delectable Israel inspired vegan pizza recipe that the whole family will love.
INGREDIENTS
Vegan pizza dough

2 cups bread flour
1 envelope pizza yeast
1½ teaspoons sugar
¾ teaspoon salt
⅔ cup of very warm water (about 120 degrees F)
3 tablespoons olive oil

Gluten free vegan pizza dough

1 cups buckwheat or cassava flour (280 g)
1 cup tapioca flour
1 tsp sea salt
1/2 cup (125 ml) + 2 tbsp water at room temperature.

Toppings

1 eggplant, cut into ¼ inch slices
Olive oil
Salt
1 large onion, sliced thin
1 cup hummus
½ large avocado
¼ tsp cumin 
pinch of black pepper
FOR COMPLETE INSTRUCTIONS, please visit the original recipe on WhatJewWannaEat
We love to fill that flavorful flatbread crust with even more veggie goodness by adding smashed and pitted Israeli olives, artichoke hearts, halved Israeli cherry tomatoes, and a sprinkling of tofu feta. What's your favorite vegan pizza topping that keeps your family coming back for more?
---
Recommended for you: