BEST ISRAELI-STYLE VEGAN STEAK RECIPE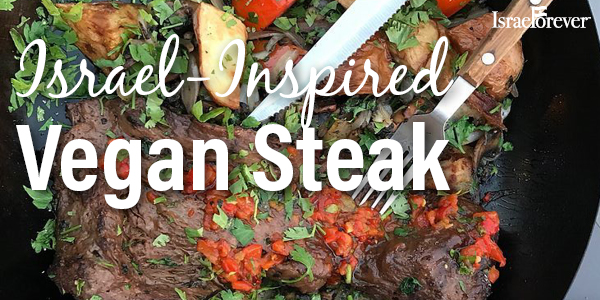 Vegan, gluten free, nut free, and kid friendly
Who knew a vegan steak could be this delicious? Full of flavor and the tastes of Israel, this steak will be loved by vegans and meat-eaters alike.
Ingredients
21 ounces tofu
2 cloves garlic
1 medium onion
1 package mushrooms  
2 Tbsp olive oil
2 Tbsp chia seeds (or ground flax seed)
1/2 cup vegetable stock
1 Tbsp soy sauce
1 tsp cumin, ground 
1 tsp coriander, ground
1 tsp smoked paprika
1 tsp parsley
Olive oil for frying
INSTRUCTIONS
Wash tofu thoroughly. Squeeze as much liquid as you can, then place in a bowl of fresh water and repeat, alternately squeezing and soaking it in fresh water until the water runs clear. You will end up with a smaller, more condensed "steak" that will easily crumble.
Mince garlic, onion and mushrooms and saute with 2 tbsp olive oil in a frying pan over medium high heat.
In a separate bowl, add chia or flax seeds, vegetable stock, soy sauce, and the remaining spices with the sauteed onions and mushrooms. Add to the tofu and knead well until completely combined.
Shape the mixture into 6 patties. Add some olive oil to a frying pan over medium-high heat and then place the patties in the pan. Fry until golden brown and crisp on one side and then flip and fry the second side.
Serve with your favorite sauce.
---
Recommended for you:
---
Bring Tastes of Israel into your Kitchen!