Ethiopian Chicken Stew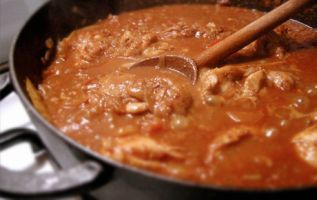 Ingredients:

1 pound boneless, skinless chicken
8 cloves garlic, chopped
1 tablespoon finely grated fresh ginger
1 cup mushrooms, chopped
2 Tbsp tomato paste
3 tablespoon creamy peanut butter
3/4 teaspoon fresh thyme leaves
1 1/2 cup lentils, orange or brown preferred
8 cups Chicken Broth
1 tsp ground coriander
1/2 tsp salt
1/2 tsp ground pepper
Preparation:

1) Preheat large skillet over medium-high heat.
2) Season chicken with salt and pepper.
3) Add to skillet and brown the chicken pieces for about 5 minutes, turning occasionally.
4) Add the garlic, ginger and mushrooms.
5) Cook for another 5 minutes. 
6) Add chicken Broth, peanut butter, tomato paste and thyme.
7) Mix well and bring to a boil.
8) After 10 minutes, add lentils and mix again.
9) Cover tightly and simmer over low heat for 30-40 minutes.
10) Season, to taste, with salt and pepper.

B'teavon!
---
The Israel Forever Foundation