Fillet Mignon by Lily Aronin
By Lily Aronin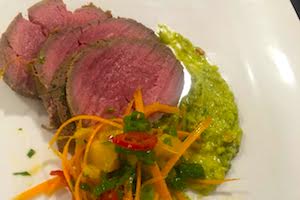 A classic recipe to repeat at any chag that is a great for those who love red meat and want to watch their health. This cooking process is simple but does have a few steps so follow carefully.
Ingredients
• 1 kilo Salted Fillet Mignon
• 1 Mango
• 1 Carrot
• 1 Red Chili
• 2 Cloves Garlic
• 1 Handful Cilantro
• 1 Avocado
• 1 Lemon
• Olive Oil
• Soy Sauce
• Sesame Oil
• Coconut Oil
• Silan Unsweetened
• Meat Thermometer
Preparation
Marinate the meat in 1/4 cup soy sauce 2 T silan 2 tsp sesame oil and 1/2 a red chili diced for a minimum of 1 hour and maximum of 8 hours.
Dry the meat and roll it in the mashed garlic salt and pepper.
Tie it into a roast with twine every 1.5 inches along the sides and leave in uncovered in the fridge for 2 hours - 8 hours. This is critical to getting the perfect sear and cooking temperature.
Preheat the oven to 200 C or 375 F.
Put a large frying pan on a high heat ( I prefer the stone or ceramic pans) and use 1 tsp coconut oil in the pan.
Then sear each side of the meat for 45 seconds and then put the meat directly on a roasting rack in the oven for 8-10 minutes.
Then use your meat thermometer to get to your preferred doneness.
Remember the meat will keep cooking as it rests after its removed from the oven, so go a little bit under the temperature you desire.
If you like moist, rosy meat (like I do), rare begins when the internal temperature registers 120 degrees F. and starts to become medium rare at 125 or 130 degrees F. To cook your meat properly, you must purchase and use a good instant-read digital meat thermometer.
Optional
Mango Salsa

Chop the mango and slice the carrots thinly. Dress with lemon, sesame oil, red chili and half of the cilantro.

Avocado Sauce

Mash the avocado and add the garlic cilantro lemon, salt and lemon and 1 tsp coconut oil to thin your dressing.
BeTeavon and ENJOY!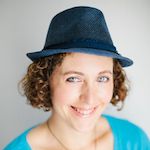 Lily Aronin is Holistic Health Chef at Lily's Kitchen in Israel. She shares her recipes and tricks to preparing healthy food for her family of 6 with other groups through her home deliveries, cooking classes, blogs and freezer ready cooking events. Lily is passionate about finding balance in the lives of hardworking families and enjoying the meals they share together. She loves to try new cuisines and is always on the lookout for more ways to make home cooking easy and nutritious. Check out more of Lily's Rosh Hashanah Recipes.
---
More Recipes:
---
Bring Tastes of Israel into your Kitchen!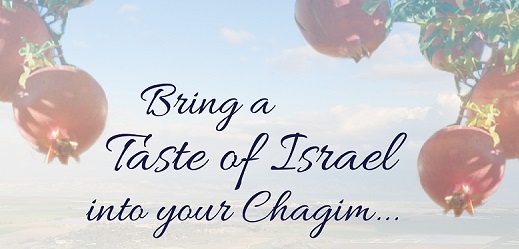 Let the aromas and flavors remind you of Israel, far away, but forever in your heart and in your life!

Click HERE to download our FREE Cooking Israel Cookbook.
About the Author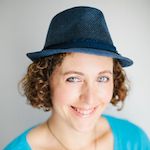 Lily Aronin, is a certified Holistic Health Coach and Chef. She loves to celebrate the best Israeli produce has to offer in an easy, sustainable and fun way. Find out about her healthy meal deliveries and cooking classes on her website www.lilyaronin.com.