Fish Cakes by Efrat Petel
By Efrat Petel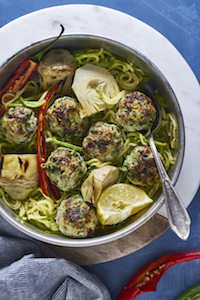 A kosher crab-cake styled dish made from white fish. Serve as a snack of small grilled balls or in our homemade spicy sauce!
Serving Size: 6
Ingredients
• 2lb White Fish Fillet (such as Sea Bass)
• 2 Medium Onions (Chopped)
• 2 cups Fresh Parsley (Chopped)
• 1 tsp Olive Oil
• 1 tsp Sea Salt
Preparation
Preheat oven to 450˚F/200˚C/gas mark 6
Chop the fish fillet with a knife or pulse in a food processor. It should be well chopped into chunks.
In a mixing bowl, combine all ingredients and let sit for half an hour.
Roll the mixture into small balls.
Bake in the oven for 10 minutes, turning over after 5 minutes, or place under the grill.
Optional lemon sauce
• 2 onions, sliced
• 5 Frozen Artichokes, Cut into Chunks
• 1 Green Chili Pepper
• 1 Lemon (sliced and chopped)
• 1 glass White Wine

1. Combine ingredients and cook on the stove for 10 minutes. Add water if necessary.

2. Place fish balls in sauce and serve. Season with freshly squeezed lemon juice.
BeTeavon and ENJOY!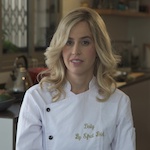 Efrat Petel is a real food chef. A mother, an entrepreneur, a software engineer, and a swimmer, Efrat isn't your typical chef. A health focused professional, Efrat graduated from the Institute for Integrative Nutrition as a Health Coach and is the author of 100 American Favorite Dishes, the Real Food Version. Efrat has developed an innovative method of adapting dietary habits that stick, and has since launched DAILY – a place for real food based on the idea that change starts with developing daily habits, along with supportive tools and knowledge for daily food preparation at just the right nutritional level for each person's unique lifestyle. Check her out on Facebook. 
---
More Recipes:
---
Bring Tastes of Israel into your Kitchen!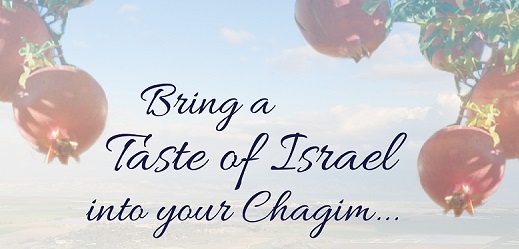 Let the aromas and flavors remind you of Israel, far away, but forever in your heart and in your life!

Click HERE to download our FREE Cooking Israel Cookbook.
About the Author