Kisonai Basar (Israeli Meat Pockets)
(Kisonai Basar)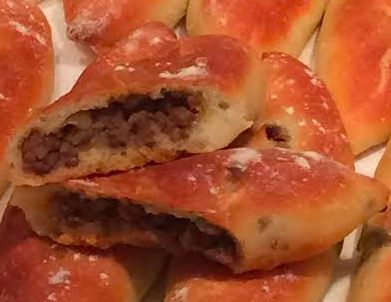 Serving Size: 4 - 6 people
Ingredients
Dough ● 1 & 1/2 cups lukewarm water (355 ml)
● 1 tsp. salt
● 3 & 1/4 - 3&1/2 cups bread flour (530 - 570 grams)
● 2 & 1/4 tsp. dry yeast
● 1 tsp. sugar

Filling
● 1 large onion - chopped small
● 2 garlic cloves - chopped small
● 1/4 bunch cilantro
● 1/4 bunch parsley
● 1 lbs. ground beef (520 grams)
● 1/2 tsp. salt
● freshly ground pepper
● red hot pepper - some
● cumin - 1 tsp.
● paprika - 1 tsp.
● Garlic powder 1/2 tsp.
● Water - 1/4 cup
● Juice of 1/4 lemon
Preparation
Dough

Mix water, sugar, and yeast. Let rest 5 minutes.
Mix 1 cup flour in the water.
Add one more cup of flour and the salt and mix very well.
Add one more cup of flour and start to knead a little.
Add 1/4 - 1/2 more flour until you can get a good feelling dough. Knead it a little in that bowl.
Put in an oiled bowl. Turn dough over and cover with plastic. 7. Let rest for 1 hour.

Filling

Cook the onion until translucent
Add the garlic and cook for two more minutes
Add the ground beef and salt - brown meat.
Add the rest of the spices and cook for another minute.
Add the lemon juice and water.

Assembly

Divide the dough into 16 pieces. Roll each into circle.
Add 1 tablespoon filling.
Close, and shape into a small long roll.
Place on parchment paper.
Sprinkle just a little flour on bread.
Cut small holes on top with scissors.
Bake right away (There is no 2nd rising here).
Throw in 1/2 cup water into the oven bottom and bake for 10 minutes.
Throw in 1/2 cup water and bake for 20 more minutes.
30 minutes in total time. Let cool 5 minutes before serving.
---
Lunchtime recipes with an Israeli twist:
---
Bring Tastes of Israel into your Kitchen!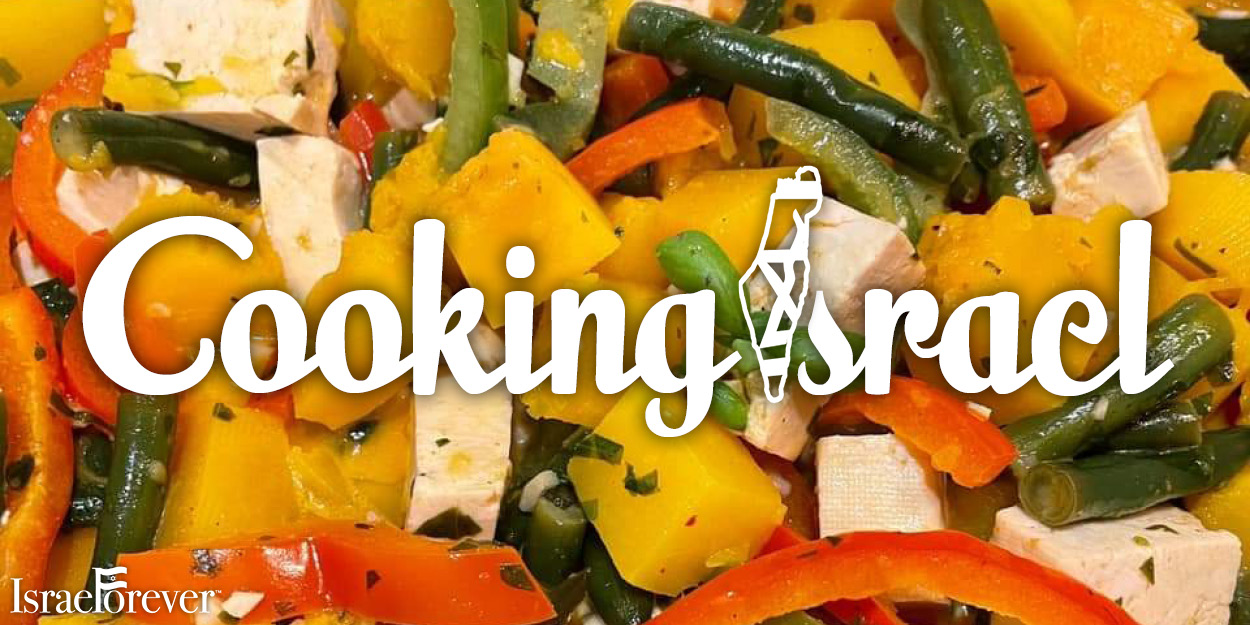 Check out more Cooking Israel Recipes full of aromas and flavors to remind you of Israel today and everyday!

Click HERE to download our FREE Cooking Israel Cookbook.