Luscious Lemon and Herb Chicken Thighs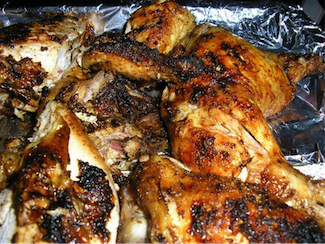 Ingredients
● 2 tsp zaatar
● ¼ c rosemary
● 2 tsp cumin
● 1 tsp ground black pepper
● 1 tsp oregano
● 4 cloves garlic, minced
● 1 cup olive oil
● 1⁄4 cup lemon juice
● 1 tsp. salt
● 2 kilo chicken thighs
Directions
Combine oil, lemon juice, and seasonings.
Mix well, making sure to massage the flavor under the skin into the thigh meat.
Marinate for 1 hour or overnight, grill over a medium hot fire.
Baste as needed with marinade, turning periodically until cooked through with meat just turning opaque at the bone.
BETEAVON and ENJOY!
---
More Mangal Recipes:
---
BBQ ISRAELI STYLE