Marinated and Grilled Salmon by Efrat Petel
By Efrat Petel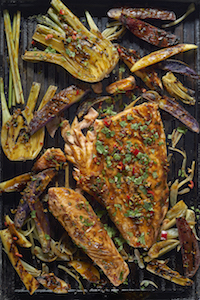 A quick and simple beautiful dish for dinner enriched with nourishing fennel and purple potatoes on the side.
Serving Size: 4-6
Ingredients
• 1 large salmon fillet, around 2lb
• 2 sticks fresh lemongrass, finely chopped
• 1 cup soy sauce (can be gluten-free)
• 1 bunch fresh coriander or parsley if preferable, finely chopped
• 1-inch piece fresh ginger, finely grated
• 2 red chilies, seeded and finely sliced
• 2 limes or lemons
• 1lb purple potatoes
• 2 fennel, finely sliced
• 1 onion, sliced
• 3T olive oil
• 1 tsp sea salt
Preparation
Wash the potatoes and cut into cubes.
In a bowl, combine the onion, fennel, and potatoes with 3T olive oil and 1 tsp sea salt.
Transfer to a heat proof skillet for use on the grill.
Warm the grill and grill the vegetables for 40 minutes. They can be grilled in the oven too, at 450˚F/230˚C/ gas mark 8 for 40 minutes.
Combine the lemongrass, soy, ginger, chili, and juice from one lime.
Spread over the salmon and sprinkle with half the coriander.
Heat the oven to grill and grill the salmon for 10 minutes. Try not to overcook it, to ensure that it remains juicy and moist on the inside. You can check with a fork.
Brush more marinade over the salmon if required.
Squeeze the juice from the second lime over the salmon and arrange the roast vegetables around.
BeTeavon and ENJOY!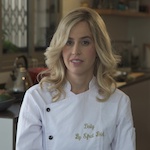 Efrat Petel is a real food chef. A mother, an entrepreneur, a software engineer, and a swimmer, Efrat isn't your typical chef. A health focused professional, Efrat graduated from the Institute for Integrative Nutrition as a Health Coach and is the author of 100 American Favorite Dishes, the Real Food Version. Efrat has developed an innovative method of adapting dietary habits that stick, and has since launched DAILY – a place for real food based on the idea that change starts with developing daily habits, along with supportive tools and knowledge for daily food preparation at just the right nutritional level for each person's unique lifestyle. Check her out on Facebook. 
---
More Recipes:
---
Bring Tastes of Israel into your Kitchen!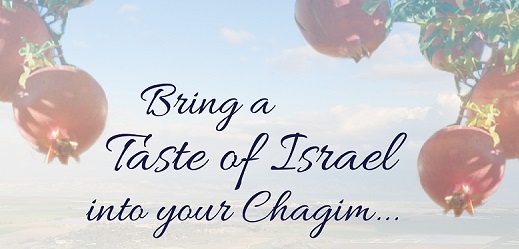 Let the aromas and flavors remind you of Israel, far away, but forever in your heart and in your life!

Click HERE to download our FREE Cooking Israel Cookbook.
About the Author