Mars Bars (Vegan & Gluten Free) by Efrat Petel
By Efrat Petel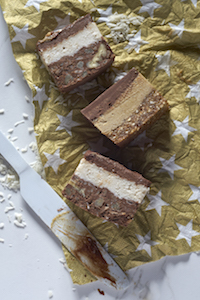 A three-layered sweet, healthy, vegan and gluten free dessert that you can prepare ahead of time and keep in the fridge.
Serving Size: 12-15 Fingers
Ingredients
Base
• 1 cup dates (preferably soft medjool dates)
• 1/4 cup almonds
• 1 tsp coconut oil

Filling (Caramel Layer)
• 1 cup cashews, soaked for 4-6 hours
• 1T coconut oil
• 1/4 cup pure maple syrup
• 1T whole tehina
• ⅓ - ¼ cup cold water

Topping
• 1 cup coconut cream
• 1 cup semisweet chocolate min 60%
Preparation
Place all base ingredients in a food processor and pulse until well mixed and becomes a small ball.
Spread into a prepared baking tin and place in fridge to firm.
Blend the filling ingredients on high power. You may need less or more water, depending on how soft the dates are. Add the water gradually. The mixture needs to be thick.
Remove the base layer from the fridge and pour the caramel layer over the base layer.
Transfer to the freezer.
For the topping, gently warm the coconut milk and chocolate in a saucepan over very low heat.
Whisk gently to ensure a very smooth chocolate texture.
Remove the baking tin from the freezer and pour the chocolate over the top.
Place in the freezer to firm.
Cut into squares or bar shapes.
BeTeavon and ENJOY!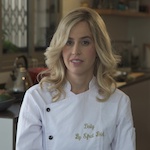 Efrat Petel is a real food chef. A mother, an entrepreneur, a software engineer, and a swimmer, Efrat isn't your typical chef. A health focused professional, Efrat graduated from the Institute for Integrative Nutrition as a Health Coach and is the author of 100 American Favorite Dishes, the Real Food Version. Efrat has developed an innovative method of adapting dietary habits that stick, and has since launched DAILY – a place for real food based on the idea that change starts with developing daily habits, along with supportive tools and knowledge for daily food preparation at just the right nutritional level for each person's unique lifestyle. Check her out on Facebook. 
---
More Recipes:
---
Bring Tastes of Israel into your Kitchen!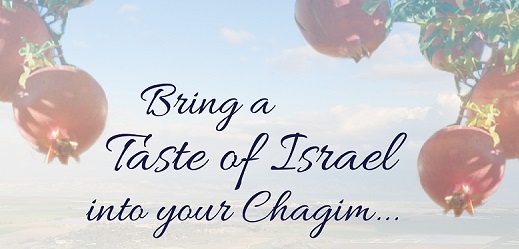 Let the aromas and flavors remind you of Israel, far away, but forever in your heart and in your life!

Click HERE to download our FREE Cooking Israel Cookbook.
About the Author