Moroccan-Spiced Lamb with Date Barbeque Sauce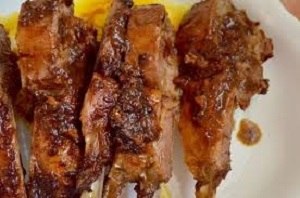 Al HaEsh (The Hebrew term for BBQ) Israeli style is not for the faint of heart. Here is a recipe for you to try, using lamb and a date-inspired barbecue sauce.
Ingredients
● 1 tablespoon plus 1 1/2 teaspoons ground coriander
● 2 3/4 teaspoons ground cumin
● 2 3/4 teaspoons sweet paprika
● 2 3/4 teaspoons ground ginger
● 1 1/2 teaspoons cinnamon
● Freshly ground black pepper to taste
● Salt to taste
● 1/2 cup extra-virgin olive oil
● One 5-pound butterflied leg of lamb, trimmed of excess fat
● 8 garlic cloves - 4 thinly sliced, 4 minced
● 1 medium onion, finely chopped
● 1/4 cup tomato paste
● 3 cups low-sodium beef broth
● 2 tablespoons honey
● 1/4 teaspoon saffron, crumbled into 1 tablespoon of water
● 1/2 teaspoon cayenne pepper
● 8 large pitted Medjool dates, minced (3 ounces)
● 1/4 cup fresh lemon juice
● 20 large pitted green olives, finely chopped
● 1/4 cup finely chopped mint
● 1/4 cup finely chopped cilantro
Directions
1. In a small bowl, combine the coriander with the cumin, paprika, ginger, cinnamon and 1 teaspoon of black pepper.
2. Set aside 3 tablespoons of the spice mixture for the date barbecue sauce.
3. Stir 1 teaspoon of salt and 1/4 cup of the olive oil into the remaining spice mixture.
4. Using a small, sharp knife, make 1/2-inch-deep slits all over the lamb.
5. Press the garlic slices into the slits.
6. Coat the lamb with the spiced oil, making sure to rub it in the slits.
7. Cover with plastic wrap and refrigerate for at least 6 hours.
8. In a medium saucepan, heat the remaining 1/4 cup of olive oil.
9. Add the onion and minced garlic and cook over moderately low heat, stirring occasionally, until softened, about 10 minutes.
10. Add the reserved 3 tablespoons of the spice mixture and cook, stirring occasionally, until fragrant, about 4 minutes.
11. Add the tomato paste and cook, stirring, for 1 minute.
12. Add the beef broth, honey, saffron water and cayenne pepper and simmer over high heat until the sauce is slightly thickened, about 8 minutes.
13. Add the minced dates and simmer over low heat, stirring occasionally, until they break down and the sauce is thick and glossy, about 15 minutes.
14. Remove from the heat. Stir in the lemon juice and season the sauce with salt and black pepper.
15. Reserve 1/2 cup of the date barbecue sauce for glazing the lamb.
16. Light a grill.
17. Lightly season the lamb with salt and black pepper.
18. Grill over moderate heat, turning once, until the lamb is nicely charred all over and an instant-read thermometer inserted in the thickest part of the leg registers 130°, about 15 minutes per side. During the last 3 minutes of grilling, brush the reserved 1/2 cup of date barbecue sauce all over the lamb.
19. Transfer the grilled lamb to a carving board and let rest for 10 minutes.
20. In a small bowl, toss the olives with the mint and cilantro.

Slice the lamb across the grain and serve with the date barbecue sauce and olive relish.

MAKE AHEAD

The date barbecue sauce can be kept in an airtight container and refrigerated for up to 3 days.
BeTeavon and ENJOY! 
---
More recipes with Moroccan influences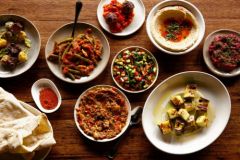 The Wall Street Journal
---
Bring Tastes of Israel into your Kitchen!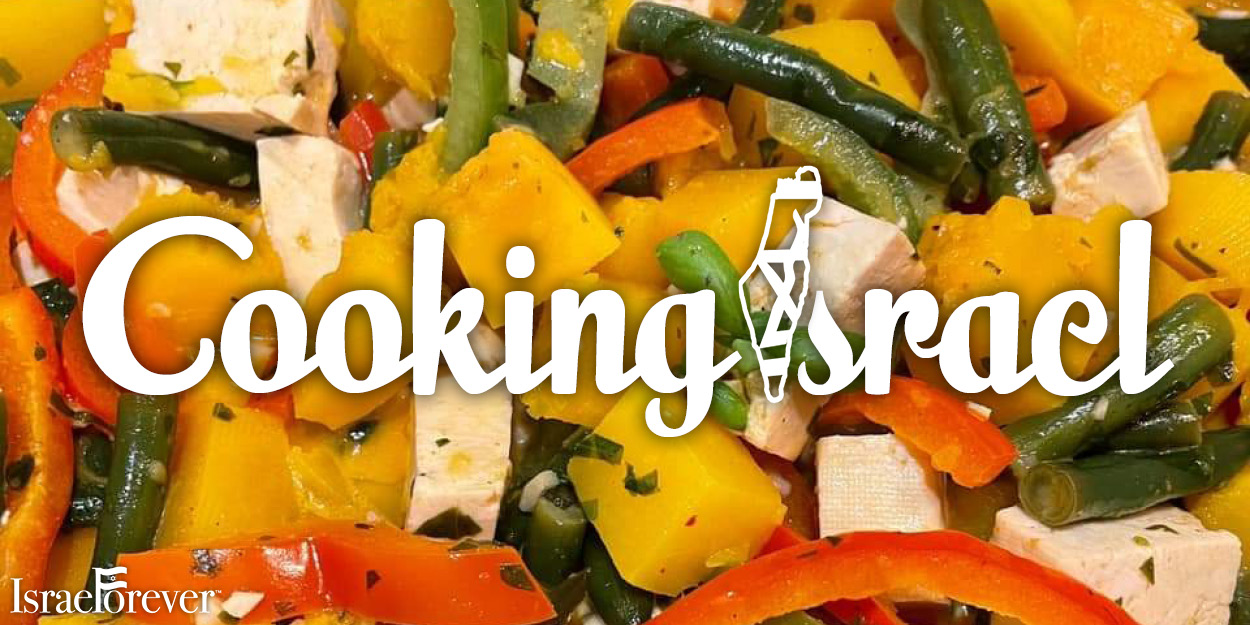 Check out more Cooking Israel Recipes full of aromas and flavors to remind you of Israel today and everyday!

Click HERE to download our FREE Cooking Israel Cookbook.