Orange-Glazed Salmon Fillets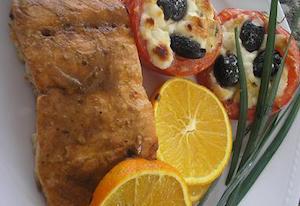 Salmon and orange, there's an interesting combination for you. It makes a change from gefilte fish at the Seder table, if you want to depart from the old-fashioned Eastern European tradition.

Adapted from AllRecipes.com
Ingredients:

4 salmon fillets – about 1 kilo (2 lbs.)
1 cup freshly squeezed orange juice
1 -1/2 teaspoon fresh-ground ginger root – or 1 teaspoon powdered
2 teaspoons balsamic vinegar - or use another vinegar if balsamic isn't available for Passover
Preparation:
1) Preheat oven 400 ° F – 200 ° C.
2) Cook the orange juice over medium heat for 15 minutes, stirring occasionally.
3) When it's reduced to half and thick, stir the vinegar and ginger  into it.
4) Have a baking pan ready and lined with baking paper. Put the salmon fillets down on it, skin side down. Sprinkle the flesh with salt and pepper. Pour 1/4 cup of the orange juice over the fillets.
5) Bake the salmon 10 minutes.
6) Drizzle the rest of the juice over the fillets and continue baking 10 to 15 minutes. When the flesh breaks off in rosy flakes, it's done.
7) Remove the salmon to a warm platter, or cover it and keep it warm on the stove top. Now reduce the roasting juices by letting them cook another 5 minutes at the oven's highest temperature. When the juices are thick, spoon them out and spread them over the fish.

This dish is good cold too, if you have leftovers.
B'teavon and Chag Pesach Sameach!
---
Recommended for you:
---
Looking for a side dish to accompany this recipe?