Pomegranate Roasted Chicken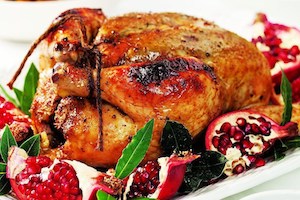 Ingredients
● 1/4 cup olive oil
● 1 Tablespoon minced garlic
● 1 chicken, quartered
● 1 pomegranate, halved
● 1/4 cup dry white wine
● 2 Tbsp apple cider vinegar
● 1 tsp cumin
● 1 tsp. cardamom
● 1/2 tsp. nutmeg
● 1 Tbsp cinnamon
● 2 Tbsp sugar
● Salt and pepper to taste
Preparation
Preheat oven to 375 degrees F.
Place chicken in a shallow baking dish.
In a cup, mix olive oil and garlic and smother over the chicken.
Remove 1 tablespoon seeds from pomegranates.
Set aside for garnish.
Squeeze juice from remaining pomegranate through a sieve into a small bowl.
In a small saucepan, mix pomegranate juice, wine, lemon juice, and cinnamon sugar.
Bring to a boil over high heat.
Reduce heat to low and cook 5 minutes to thicken.
Season sauce with salt and pepper to taste.
Drizzle a bit of the sauce over the chicken and put in preheated oven to bake for 45 minutes, basting several times with pan juices.

● Feel free to add a bit more of the sauce throughout the cooking - it will be wonderful!
When the skin is browned and juices run clear when a thigh is pierced at thickest part with a fork, remove chicken from oven and cover with aluminum foil to rest for 10-15 minutes.
Combine sauce from pan and uncooked sauce.
Transfer roasted chicken to a serving platter and pierce each piece several times.
Pour sauce over chicken.
Garnish with pomegranate seeds and serve.
BeTeavon and ENJOY!
---
More Recipes:
---
Bring Tastes of Israel into your Kitchen!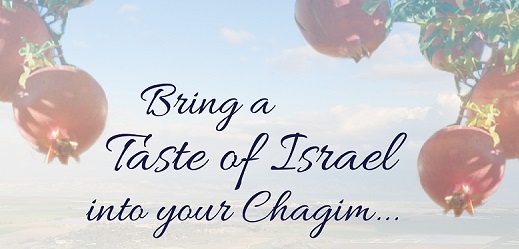 Let the aromas and flavors remind you of Israel, far away, but forever in your heart and in your life!

Click HERE to download our FREE Cooking Israel Cookbook.