Potato Rösti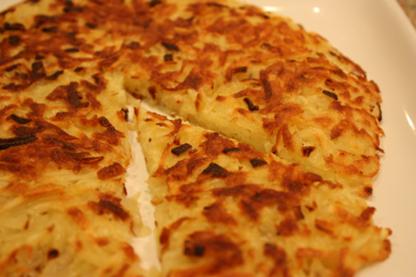 Copyright © acookingdad.blogspot.com
Original recipe by Israeli Chef Einat Admony
Adapted by Nancy Davidson for Epicurious
These Swiss potato pancakes are delicious paired with roasted chicken or Cornish hens glazed with a sweet sauce.
Ingredients
● 4 russet (baking) potatoes, peeled and coarsely grated
●1 tablespoon fresh rosemary, chopped
● 1 1/4 teaspoons salt
● 1/2 teaspoon freshly ground black pepper
● 6 tablespoons olive oil
Preparation
In large bowl, stir together grated potato, rosemary, salt, and pepper.
In a heavy 10-inch nonstick skillet over moderate heat, heat 2 tablespoons oil until hot but not smoking.
Pour in 1/2 potato batter and lightly press to form even layer that completely fills pan.
Cook, without moving, until underside is browned, about 12 minutes.
Invert large plate over skillet and flip pancake onto plate.
Add 1 tablespoon oil to skillet, then slide pancake back, uncooked side down, into skillet.
Cook until underside is golden brown, about 5 minutes.
Remove from heat and keep warm, then repeat process with remaining oil and potato batter to make second pancake.
Cut into wedges before serving.
BeTeavon and ENJOY!
---
More Recipes:
---
Bring Tastes of Israel into your Kitchen!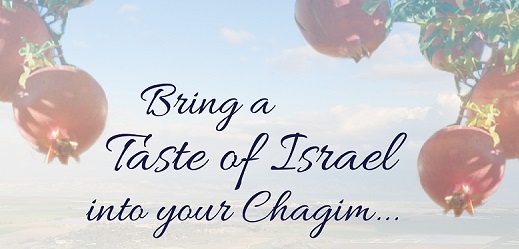 Let the aromas and flavors remind you of Israel, far away, but forever in your heart and in your life!

Click HERE to download our FREE Cooking Israel Cookbook.