Whole Roasted Pumpkin Stuffed with Lamb and Bulgur
Serving Size: 4 - 6 people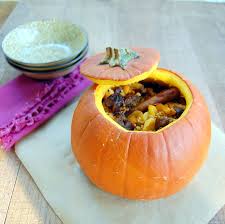 Ingredients
● 1 ½ c. bulgur wheat (coarsely milled whole wheat, available in health-food stores)
● 3 c boiling water
● 1 ½ tsp salt
● 3 tb salad oil
● 1 ½ lbs ground lamb
● 2 medium onions, coarsely chopped
● 2 stalks of celery, diced
● 3 tb honey
● ¾ c. dark raisins
● ¾ c. dry red wine
● 1 medium pumpkin
Directions
Preheat oven to 350º F.
Toast the bulgur wheat in a large, lightly oiled frying pan over medium heat stirring constantly for about five minutes until the color has darkened slightly and there is a nut-like fragrance.
Add boiling water and salt; cover and turn flame to low.
Allow bulgur to steam for ½ hour or until all the water is absorbed.
Heat the salad oil in another pan.
Add ground lamb, chopped onions and brown (cook until onions are translucent and lamb is cooked on all sides).
Add the lamb and onion mixture to the steamed bulger along with the remaining ingredients - mix thoroughly.
Cut off the top of the pumpkin and remove all innards and seeds.
(Note: if you would like to prepare this recipe without using a pumpkin see 'Variations' below)
Lightly oil the pumpkin skin (the oil will keep the skin from drying out and will help it turn a beautiful color).
Stuff pumpkin with the lamb mixture and cover with the pumpkin lid (don't overstuff - if there are leftovers you can bake separately in a small covered casserole dish).
Place pumpkin on a large cookie sheet in preheated oven for 1 ½ hours.
You can tell when the pumpkin is cooked by lifting the lid and gently testing the pumpkin flesh with a skewer or fork - do not pierce the skin or it will leak - it should puncture the flesh with ease.
When serving, scoop out some of the pumpkin (which is like a mild squash) along with the bulgur and lamb mixture.
Variation
If not cooking in pumpkin, put the mixture into a 3-quart covered casserole dish - bake in preheated oven for 45 minutes adding a little water or wine if necessary to keep the mixture moist. You can add lightly oiled ½ cubed pieces of pumpkin (flesh removed) to mixure as an additional option.
Recommended Sides
Strong-flavored greens (such as raw spinich and water cress) or mushrooms sautéed or steamed, a green salad.
BeTeavon and ENJOY!
---
More Recipes:
---
Bring Tastes of Israel into your Kitchen!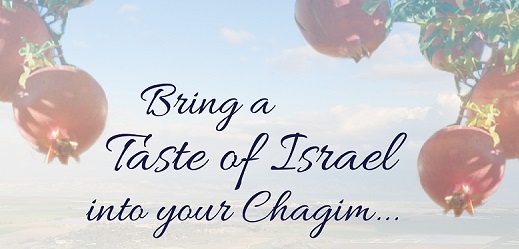 Let the aromas and flavors remind you of Israel, far away, but forever in your heart and in your life!

Click HERE to download our FREE Cooking Israel Cookbook.