Simanim Salad by Chef Zissie
by Chef Zissie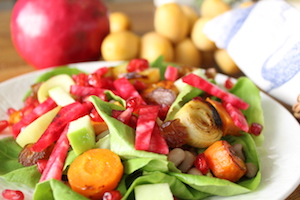 Every year people try and find all different recipes for the simanim, but what you did not realize is that they together make a really unique, beautiful and flavorful salad! ALL IN ONE!!! Add pulled salmon or a side of fish head to this dish and you are good to go!
Serving Size: 4
Ingredients
• 1/2 Cup Black Eyed Peas
• 4 Ounces Butter Lettuce
• 1 Leek White Part Chopped
• 1 Gourd Peeled And Chopped
• 1 Carrot Peeled And Chopped
• 1/2 Beet Peeled And Thinly Sliced
• 1 Pomegranate Seeds Removed From Peel
• 6 Dates Pits Removed And Slice
• 1 Apple Chopped
• 1/2 Cup Extra Virgin Olive Oil
• 1/2 Cup Balsamic Vinegar
• 2 Tablespoons Honey
• 1 Teaspoon Salt (Pink Himalayan Adds A Great Flavor)
Preparation
Preheat oven to 375°F.
Put black eyes peas in small pot and generously cover with water. Boil on high for 30-40 minutes or until soft but not mushy. Rinse and drain.
Prepare a baking sheet with parchment paper and add leek, gourd and carrot. Drizzle with 4 tablespoons olive oil and a ½ teaspoon salt. Mix well and put in oven for 35 minutes or until golden.
In a jar add remaining olive oil, balsamic vinegar, honey and salt and mix well.
In a large bowl add the lettuce, beet, pomegranate, dates and apple slices. Add leek, gourd and carrots.
Mix with dressing right before serve. Serve warm or room temperature.

Notes & Tips:

Be sure that the leek, gourd and carrots are all chopped to the same size so you avoid any burnt pieces.
BeTeavon and ENJOY!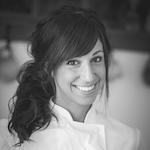 Chef Zissie runs numerous exclusive and special events and classes for her clients, specializing in flavor. She cooks and teaches in a unique way of using fresh ingredients to create flavor fusions that will wow you. If you don't have the opportunity to have Chef Zissie as your own private chef, don't fret! Check out her website which was created to plan out your daily dinner menus for you, down to the shopping list. Her recipes are all unique, yet relatable. They are easy, yet impressive. They are extremely healthy, yet bursting in flavor. Chef Zissie has created a name for herself that stands out in the kosher world of cooking, by studying the cuisines of the world and using them as inspiration to help people understand food and flavor in the most non-intimidating and exciting way yet!
---
More Recipes:
---
Bring Tastes of Israel into your Kitchen!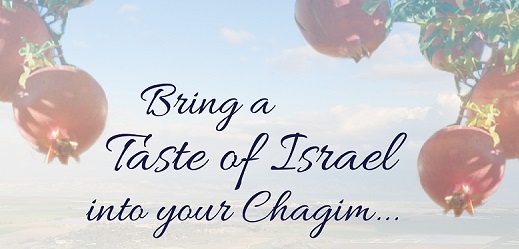 Let the aromas and flavors remind you of Israel, far away, but forever in your heart and in your life!

Click HERE to download our FREE Cooking Israel Cookbook.