Stuffed Vegetable Medley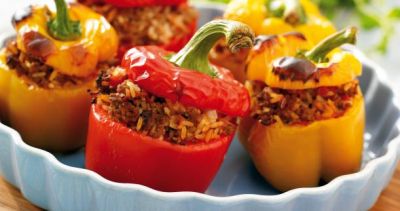 Ingredients
● 6-8 vegetables for filling: peppers, zucchini, acorn squash, tomatoes, artichoke bottoms
● 1 pound ground beef
● 2 onion, diced small
● ½ cup uncooked rice
● ½ cup water or broth
● ½ cup tomato paste
● 1 egg
● 1/2 cup pine nuts
● 4 cloves garlic, diced or minced
● 1 Tbsp cumin
● 1 Tbsp parsley, chopped
● 1 tsp thyme, chopped
● 1-2 tsp salt
● 1/4 tsp black pepper
● 2 Tbsp oil 20 oz can tomatoes (chopped if possible)
● 4 Tbsp lemon juice
● 4 Tbsp sugar
Directions
In a saucepan, brown the chopped onion in the oil.
Add tomatoes, tomato paste, sugar, cumin, garlic, lemon juice and salt and pepper.
Let simmer while preparing vegetables.
Cut the top off the peppers, zucchini and squash and pull out the insides.
Chop the flesh of the zucchini and mix in a bowl with meat, onion, rice, nuts, herbs and egg with water and 3-4 Tbsp of tomato sauce.
Stuff vegetables with the filling and place in a roasting pan.
Pour remaining sauce over and around the vegetables. (For decoration, cover with the tops of the peppers/squash.)
Cover with aluminum foil and bake 1 hour basting once or twice.
BeTeavon and ENJOY!
---
More Recipes:
---
Bring Tastes of Israel into your Kitchen!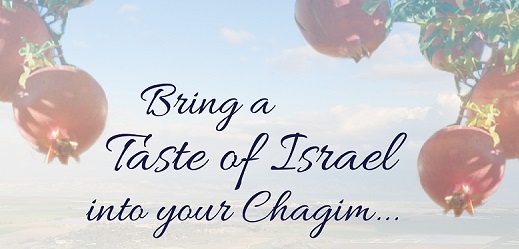 Let the aromas and flavors remind you of Israel, far away, but forever in your heart and in your life!

Click HERE to download our FREE Cooking Israel Cookbook.