Where Are We Safe?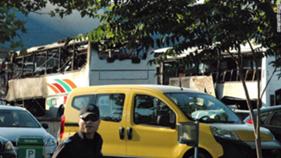 It is with a very heavy heart that The Israel Forever Foundation condemns the attack on innocent Israelis in Burgas, Bulgaria on Wednesday, June 18, 2012.
This incident took place on the 18-year anniverary since the brutal attack on innocent victims at the Israeli embassy and AMIA Jewish community center in Argentina.
We stand with all the People of Israel in our fight for freedom and dignity for all Jews and Israelis everywhere.
We join with our global community of Virtual Citizens of Israel in remaining steadfast in our commitment to a strong connection to the Jewish Homeland.
How does this event affect you at home, wherever in the world you may live?

Over 100 Israelis not wounded in the blast waited afterward in the airport to give their testimony to the police. Itzik Levi, the head of a Chabad restaurant in Burgas, commented that "People did not look so frightened, but rather angry. Some of them want to return to Israel... Others want to stay." (HaAretz)

WHAT DOES THIS TELL YOU ABOUT HOW SOME ISRAELIS COPE WITH BEING THE ONGOING TARGETS OF TERROR?


Do you consider an attack of this nature as an attack against Israel and Israelis only, or an attack against all Jews everywhere?

What do you wish you could do for the sake of the victims and their families?

How does this encourage you to strengthen your personal connection to Israel?

We hope you will share your thoughts with us, as an expression of the continued growth of your personal connection to Israel.
Just as the words of Hatikvah, Israel's national anthem is titled The Hope, we will continue to hope that one day the importance of Israel will be recognized rather than threatened, and that there will be peace for all of Israel.
---
Recommended for you:
---
STAY CONNECTED NO MATTER WHERE YOU LIVE