ChanukahGiving: Showing Thanks To Our Modern Day Maccabees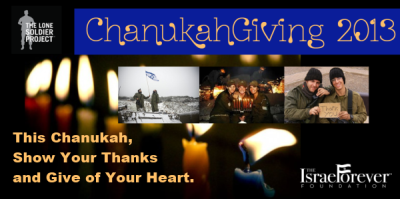 November 12, 2013
The overlap of Chanukah and Thanksgiving has made major headlines this year, sparking celebratory campaigns for Thanksgivukkah and the Menurkey. While for some the emphasis is on the turkey, ChanukahGiving is focused on emphasizing the giving of thanks and its connection to the historical events surrounding the Chanukah miracle.
ChanukahGiving encourages Jews from all over the world to acknowledge and appreciate our modern day Maccabees: the fighters in the Israel Defense Forces. Among these brave young men and women are the Lone Soldiers, Diaspora Jews who selflessly serve to defend and protect our Jewish Nation.
There is so much that can be learned from their commitment to Israel, and The Lone Soldier Project of The Israel Forever Foundation is determined to inspire an Israel connection in others around the world through their stories.
In honor of this special holiday, on Thursday, November 28, 2013 at 8.00 P.M. (Israel Time) 1:00 P.M. (E.S.T), more than 500 soldiers will be treated to a special evening of traditional Thanksgiving and Chanukah foods.

People from around the world will be able to virtually participate in this event by joining in for a special candle lighting ceremony that will be
live-streamed on www.israelforever.org.
The Lone Soldiers are spending Chanukah far away from their families, but what better way to help them feel the love from around the world than to give them gifts they will truly appreciate?

Just as Chanukah arrives, so, too, do the cold months of bone-chilling wind and extreme conditions and, unfortunately, lone soldiers often find themselves ill-equipped to contend with the harsh realities they have to face while serving on duty.

Our hope is to give out as many winter items as possible to these young fighters in need.
So as we celebrate the beautiful festival of lights, and commemorate the resistance against oppression of the Jewish People, please join us in giving the gift of thanks and donate towards the purchase of winter items to keep our lone soldiers warm throughout the months ahead.

Happy ChanukahGiving everyone - let the giving begin!
Click here for more information on joining this one-of-a-kind experience!