Tu B'Chef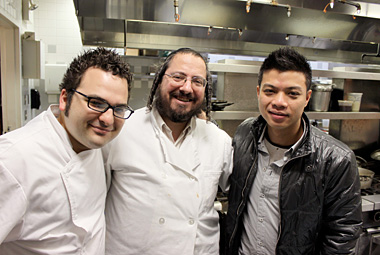 Copyright © Len Small/Tablet Magazine
By Liel Leibovitz, Tablet Magazine
January 16, 2014
Growing up in Atlanta, Eli Kirshtein was more interested in pork than in pomegranate, figs, and other staples of Tu B'Shevat, the Jewish celebration of nature and trees.
In fact, Kirshtein, who appeared on the recent season of the Bravo reality show Top Chef—he finished fifth—had little idea that Tu B'Shevat existed until Tablet Magazine presented him with a take on the quickfire challenge and asked him to create a menu for the holiday.
Kirshtein, currently cooking at Solo, a kosher restaurant in midtown Manhattan, took the challenge head-on, brushed up on his Mishnah, and made us a dish as scrumptious as it is symbolic. Such studious cooking, he says, is what life is like outside of the mercurial environment of reality television.
"I think the main thing you got to remember about Top Chef is that it's more Top Cook," he said. "You don't have to worry about food cost, labor cost…. A New York City kitchen is a really difficult thing, because the clientele is so demanding and the food public really knows what's quality versus what's gimmick."

Watch Kirshtein ply his craft:
Click here to be redirected to the original article and to see Eli Kirshtein's Tu B'Shevat recipe for Persimmon Salad.
---
---