Crossing Generations And Oceans To Enlist For A Zionist Cause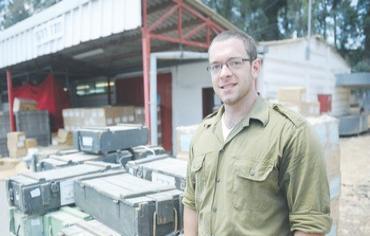 At 76 years of age, Lillian Schoenfeld is unlike many of her counterparts. Instead of choosing to spend her golden years on the golf course or idly playing mahjong, Schoenfeld has bucked the tradition of the stereotypical grandmother by joining the ranks of the IDF volunteer program Sar-El.
"I'm doing my thing," the Aventura, Florida, septuagenarian told The Jerusalem Post, beaming proudly in her IDF-issued uniform.

Sar-El, which currently hosts approximately 4,000 volunteers from across the globe every year, originated during the First Lebanon War in 1982. At the time, the country was in dire need of additional troops to help transport goods, especially to remote moshavim on the Golan Heights.
Aharon Davidi, founder of Sar-El and a veteran of the Unit 101 special forces commandos, suggested that the IDF bolster its forces by bringing in Jewish volunteers from the US. That year, the IDF brought in 680 volunteers and provided them with food, shelter and transportation from the airport to the army base.

After their service, many of them pleaded to return because "they felt they were helping to build the country," explained Michael Allouche, who served under Davidi at the time and is the current deputy commanding officer of the program.

Although over 30 years have elapsed, not much has changed – other than the statistics.

Sar-El now hosts volunteers from 40 countries, and in years of greater conflict – such as the second intifada in 2002 and the First Gulf War in 1991 – the unit welcomed a staggering 8,000 volunteers.

Cleaning guns, working with electrical equipment and ensuring storage units are well stocked are only some of the various roles assigned to Sar-El volunteers.

According to Allouche, the benefits of Sar-El are many.

For example, some bases – including the Medical Support Base in Tel Hashomer – are run almost exclusively by the program's volunteers, which offers the IDF a significant cost-saving measure.

Also, because of their positive experience with Sar-El, many volunteers return to their home countries and become de facto goodwill ambassadors for Israel. What's more, approximately 10 percent of those volunteers decide to take their love for Israel one step further by making Aliya.

Ariel Kartashev, 27, is a proud member of that small yet passionate demographic.

The Washington state native arrived with his family earlier this summer and is currently in the process of making aliya.

"If there's a war, I don't want to be watching the news on TV and cheering. I want to be a part of it," Kartashev said, explaining what it is about the the Sar-El program that appealed to him.

Another staunch pro-Israel advocate among Sar-El's ranks is 66-year-old Morris Ryvak.

Having volunteered 14 times for the unit, Poland-born and Brooklyn-raised Ryvak is no stranger to the program.

"When I discovered Sar-El in 1999, I thought, 'I must do this,'" Ryvak said. Much of his support for Israel, he explained, comes from his experiences facing rampant anti-Semitism as a child in Poland.

Chicago native Dan Ramano, who converted to Judaism in May, enrolled in Sar-El as a way to fully immerse himself in Jewish life and culture.

While he was initially introduced to Judaism through his girlfriend, Ramano decided to formulate a personal relationship with Israel by joining both Birthright and Sar-El on his own.

"I think it's good for me to have my own experience here. I don't want my entire connection to be based just because of her. I want my own relationship with Israel," he explained.

Although Ramano has only been in Israel for a few weeks, he is already settling in well.

"I feel safer here than in Chicago," he said.

Ryvak, too, expressed his strong bond with Israel, saying, "The other day I was in the Kotel, and I mentioned going back home. But then a man turned to me and said, 'You are home.' And he was right."


Click here to be rediercted to the original article.
---
Learn more about those who defend our one and only Jewish State!

The Lone Soldier Project™