Israel's Mysterious 'Grand Canyon'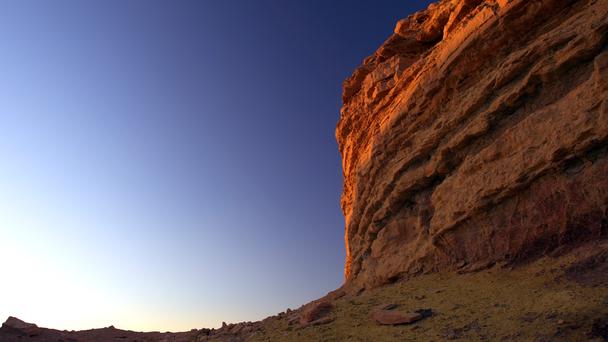 Roughly the size of New Jersey and well known for being home to the Dead Sea, Jerusalem and Lake Galilee, tiny Israel has a gigantic secret that many travellers have never heard of. But word is slowly spreading about Maktesh Ramon, a vast lunar landscape hidden in the heart of the Negev desert.

Described by Lonely Planet as "Israel's Grand Canyon", the maktesh is not a canyon, but a unique geological phenomenon. There are only seven makteshim in the world – five in Israel and two in Egypt's Sinai desert – and Maktesh Ramon is by far the biggest.

"The word comes from the Hebrew for 'crater', but a maktesh is not created by a meteorite that crashed into our atmosphere," said Itay Naveh, manager of the Mitzpe Ramon Visitors Centre. "Maktesh Ramon was created by the erosion of a mountain that rose above sea level. Millions of years ago, the limestone top of the mountain broke and the inside of it was drained out by the river. So, it's more like a giant funnel, not really a canyon."

Indeed, a more accurate definition of a maktesh is an "erosion cirque", providing a peek into the earth's crust and detailing millions of years of evolution. The ancient rivers of Ramon and Ardon that once ran through it have long since dried up, leaving a giant bowl that is 300m deep, 8km wide and 40km long, featuring multi-coloured sandstone, volcanic rock and fossils.

Life on Mars
Unbelievably remote, the town of Mitzpe Ramon has grown on the edge of the crater. Founded as a workers camp in 1951, Mitzpe (Hebrew for watchtower), was an isolated community of mostly Romanian and North African Jewish immigrants who came to build roads. But in recent years it has become a hub for urbanites from Tel Aviv and desert travellers who prefer to take the scenic route south to the Red Sea and the resort town of Eilat.

With tourism being a key part of the town's economic future, the Mitzpe Ramon Visitors Centre reopened in February 2013 after more than two years of renovations. There are detailed maps of area hiking trails and a museum with a 3D model of the maktesh, plus exhibitions and films on the local geology.

The centre also has a new section dedicated to the life of Ilan Ramon, the first Israeli astronaut, who tragically died in a fatal NASA mission in 2003. Born Ilan Wolferman, he changed his surname to Ramon as he loved the Maktesh Ramon region. This area of the desert, part of the Negev Highlands, is also pitch black at night, making for a wonderful place to observe the stars and a fitting memorial site for an astronaut.
Read the full article here.