Holiday Is Not Necessarily Lonely For Lone Soldiers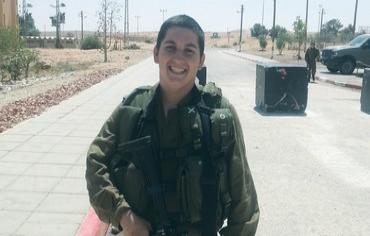 Copyright © IDF Spokesman
Born in 1993 to a Jewish family in South Africa, Dean Goodson went to Jewish day school and was brought up with a "very Zionist education." "Every morning, walking through my school's gates, I saw the Israeli flag proudly standing there," he recalled. "That started it all for me."
A year and a half ago, after graduating from high school and coming to Israel for the very first time as part of a school trip, Goodson made Aliyah and joined the IDF where he is now going through basic training with the goal of serving in a combat position.

"When I was 13, my older brother also left to go to the army," he told The Jerusalem Post. "It was an important stage in my life, it was a shifting point where I knew for sure. I was definitely coming to Israel and joining the IDF."
Goodson's brother still resides in Israel. "It's very comforting to have him here," Goodson said. "I get a lot of advice from him and I look up to him in many ways. He is one of those good big brothers."

For Lara Kovalsky, who made Aliyah from Argentina back in January, immigrating to Israel was not something she had planned for herself from the beginning.
"I don't know why but I always wanted to live in Australia, until two-and-a-half years ago my parents told me, why are you not trying Israel?" Kovalsky's parents had made one trip to Israel after their wedding and although they enjoyed the experience, they never visited again. Many members of her extended family, however, have made the move and live in the country.
Following her arrival, Kovalsky has undergone studies at the Ulpan in Kibbutz Ma'agan Michael where she met her adoptive family. She enlisted into the IDF last month and is currently training for a position in the Home Front Command.

"I arrived at 19 years old and I wasn't forced by law to go to the army, but as a new immigrant, the country gives you a lot of benefits, so I thought why not do something so important for this country and something that will be very interesting for me," she said. "I came here knowing I wanted to serve."
Like some 17,484 new olim, Goodson and Lara will be celebrating Rosh Hashanah in Israel for the first time on Wednesday night. Both will be having the holiday dinner on base. "Of course I miss being with family," Goodson told the Post. "There is nothing like being with them during the holiday, but this year I'm spending the hag [holiday] on base, with my new family here."
"The fact that millions of Israelis will be comfortably seating at home, celebrating and eating Rosh Hashanah meals and that I'm wearing an olive green uniform helping them stay safe makes me very proud," he added. Although she had the opportunity to fly home for the holiday, Kovalsky decided to stay in Israel and celebrate Rosh Hashanah on base with her fellow soldiers.
"I saw all my friends here basically crying when we were told we would have to be on base for the holiday, and I thought to myself, it's not fair to them if I leave," she explained. "I will have many more holidays to celebrate with my family."

"I'm sure it will be a great experience doing Rosh Hashanah on base, with the commanders. It will be nice," she said. "It's something I will remember my whole life." As for their wishes for the new year, both Goodson and Kovalsky said they hope for the safety of Israel and for a smooth army service.
---