THE UNSEEN THREAT OF THE MAPPING PROJECT
---
A new website has been brought to light - a pure, unadulterated threat to Jewish life sponsored by the antisemitic pro-Palestinian BDS movement, is being promoted by anti-Israel groups such as Boston BDS and the left-wing nonprofit Massachusetts Peace Action.  Showing ties between various Massachusetts institutions and "support for the colonization of Palestine" has raised alarms over its dangerous targeting of the Jewish community.
This map not only connects pro-Israel groups but other Jewish institutions, including a high school, a center for people with disabilities, student groups, synagogues, newspapers, Jewish-run charities, and even a center for Jewish arts. Private corporations, politicians, police departments, finance groups, universities, and health care companies believed to be "controlled by Jews" are also noted.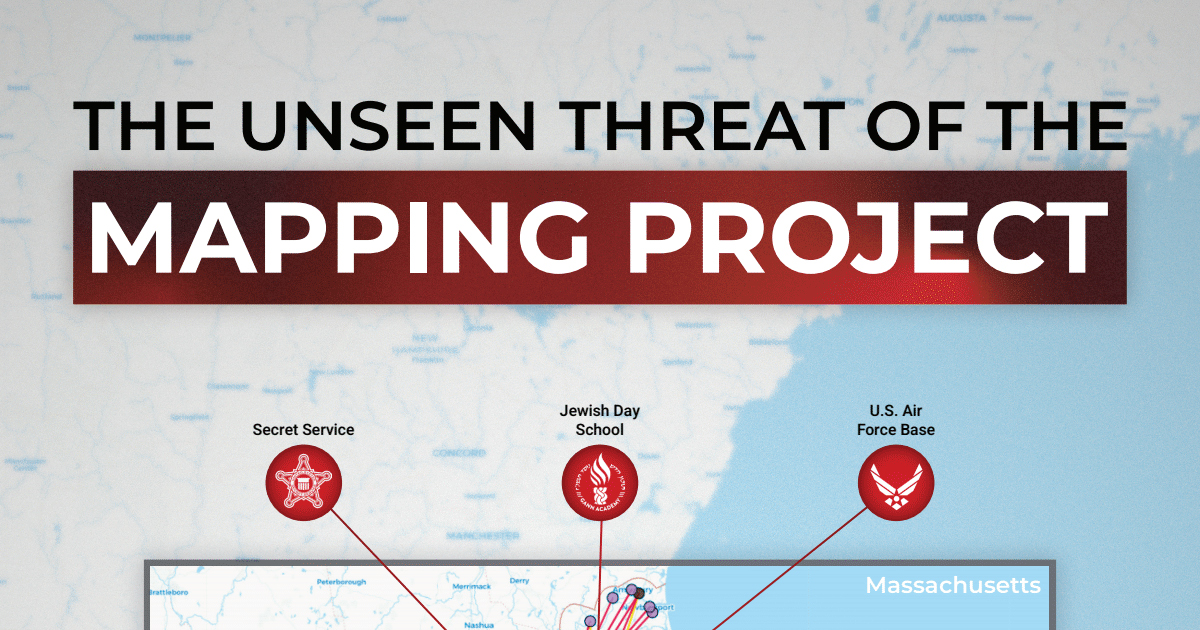 Israel Forever is proud to join with The Zachor Institute to highlight the dangers represented by the antisemitic mapping project that was discovered in Boston. The attached report highlights suspicious findings, including:
The Mapping Project propagates extreme-right and extreme-left antisemitism, as if Israel-haters and neo-Nazis have come together to lead an online project
More than 50% of the entities on the Mapping Project website are not Jewish/Zionist but rather American security assets and institutions
These findings and others should become available to the public, the FBI, and other authorities.

As the dangers rise around us, we can assume that this is not likely the only map of its kind. We hope you will share this resource widely to encourage others to be informed about the unseen threats we face.
FOR CONSIDERATION OR DISCUSSION:

Do you believe this map serves as clear evidence of a threat against Jewish communities and institutions?
What would you want to see happen in the aftermath of this map's publication? 
Do you think that those associated with the creation of this map should be held legally accountable for incitement? 
Why do you think this ISN'T being taken seriously? 
A similar map of Jewish youth activities has since been discovered - apparently from within a high school network. Should we be talking to our children about this? How can we do so without making them live in fear? 
Why do many ignore the blatant hatred of the BDS ProPalestinian Jewhatred movement? 
Does this map make you afraid? If so, how are you coping with that fear? 
What more do you think we should do to fight the spread of the threats against Jews? 
How could we reach do more to raise awareness of the dangers of this map, and the others that are likely in existence? 
---
Recommended for you:
---
JEWHATRED IS NOT OKAY. AT ALL. ANYWHERE.

We must show the world, before it is too late, before history repeats itself yet again, that we will not be silenced. We have a right to our own story. Jewish rights are human rights, and like any human, one of those basic rights is the right to life.

CREATE THE OPPORTUNITIES FOR DISCUSSION THAT MATTER.

BUILD THE PARTNERSHIPS IN YOUR COMMUNITY THAT CAN MAKE A DIFFERENCE.
---