Chanukah Lyrical Art of Modi'in
Art is an expression of one's inner thoughts, feelings, and emotions. During this time of war on the Jewish Nation, create artwork to process your reaction to the heartbreak that the People of Israel are undergoing.

Hang your Chanukah artwork on a window or door to show the world that you stand with the Jewish Nation, unified together as one.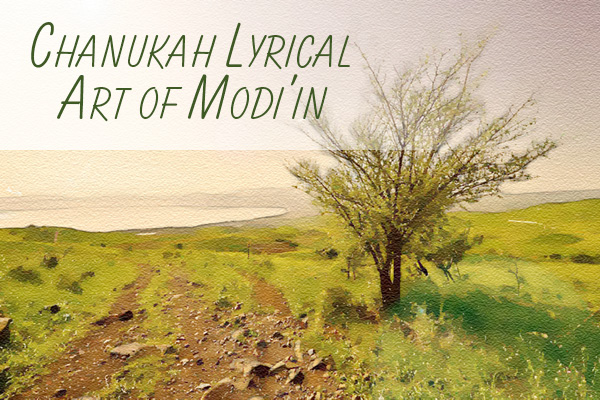 SUPPLIES NEEDED
Watercolor paper
Watercolor paints
Paintbrushes
Jar or bowl for water
Paper towels for blotting
Permanent markers
Colored pens, markers, or oil pastels (optional)
Text of Mi Yimalel, Banu Choshech or any other Chanukah song in both Hebrew and English
Blank paper for practicing
Pencils for sketching
---
STEPS TO CREATE YOUR MUSICAL ART
Select an image you like of an Israeli landscape. We recommend the land surrounding Modi'in, the hometown of the Maccabees, or Jerusalem, our eternal capital where the Temple was rededicated after the battle.
Using pencils, different colored markers, pens, and/or oil pastels draw the outlines of the land that you see, incorporating as many of the rocks, trees, etc as possible.
Write the text of your favorite Chanukah song in Hebrew & English, (or your native language), in permanent pen anywhere you want on your page. Click HERE for a selection of Chanukah songs and lyrics.
Get creative! You can draw an Israeli flag and write the words to the song inside of it. You can write the words in curvy lines in the sky. You are the artist, so you are in charge of your artwork. The idea here is to incorporate the text to Chanukah songs into the lands where the Chanukah battle took place.
Once all your lines and words are written/drawn, begin painting with your watercolor paints. 

Please note: permanent ink & oil pastels are made to hold fast, so you can paint right over them. Anything water-based (like most non-permanent markers) will blend into your paints. If you choose, sketch everything in pencil and then make your painting fully watercolor.
Lay flat to dry. Watercolor paints will drip and run if held upright! So be sure your painting is dry before you pick it up.
7. Once dried you can frame it, laminate it to create a Chanukah placemat, punch a hole in the top and tie a ribbon through to hang in your house as a Chanukah decoration, or mount it and frame it to bring out every year as a Chanukah decoration to commemorate this monumental time in Jewish history.
Have your artwork featured in our online Israel in My Art gallery! Sign your artwork with your first name and last initial and send us a picture!

Painting as a part of a class or art group? Send us your selfies and group pics for a shoutout throughout our global Jewish community who loves sharing our connection with their fellow Virtual Citizens of Israel around the world. Follow us on social media post your pic online and tag us and/or use our hashtags #IsraelForever and #VCI

Find unique ways to incorporate the Israeli flag and the flag of the country in which you reside into your art as well, so that the world can see the vast number of nationalities of our VCI artists!
---
Recommended for you:


---
BRING ISRAEL INTO YOUR CHAGIM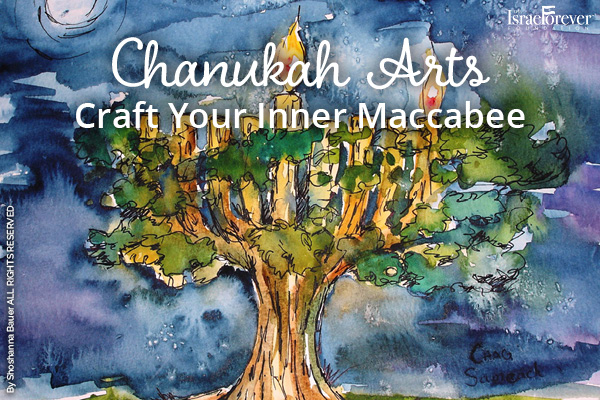 About the Author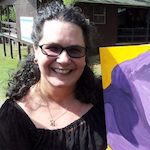 Stefanie Jo Heideman, founder of
Art Escapades
, is an art educator who believes that art is not supposed to be competitive, but rather a peaceful, relaxing experience for one to engage in and enjoy. As the Arts and Education Specialist for Israel Forever, Stefie is able to weave her love of Israel into her projects and lesson plans for individuals of all ages and stages of life.