One of a kind Sand Art Chanukiah
This is a great family activity. Every child can make their own, unique Chanukiah. No two are alike!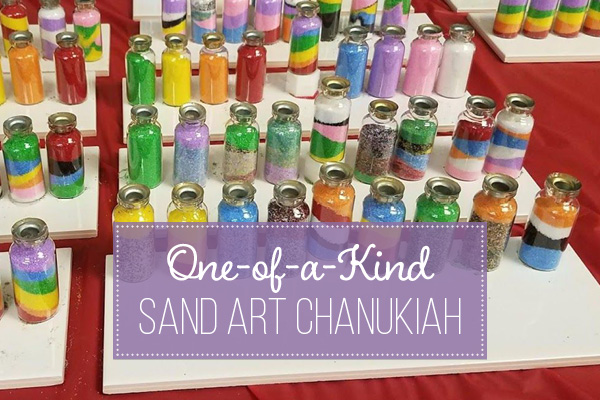 SUPPLIES NEEDED

---

• 4x12 ceramic tile base, in any color of your liking
• 20ml glass vials
• Colored Sand
• Small funnels
• E6000 glue
• Candle bases, 9 per chanukiah
• Square tiles to raise up the Shamash candle
• Bowls and spoons for sand distribution
• Plastic table cloth
• Glitter Glue (optional)
• Chanukah Confetti, Stickers
• Mod podge, to put used to attach and seal the confetti, stickers, etc
STEPS TO CREATING YOUR SAND ART CHANUKIAH
---
1. Cover table(s) with tablecloth(s)
2. Place colored sand into bowls with spoons
3. Place one 4x12 ceramic tile, 9 glass vials, one tube of e6000 glue and one funnel at each place an artist will sit
4. Explain to the artists that a kosher chanukiah must have all 8 candles lined up in a straight line.
5. Each artist should place their 8 glass vials down in the center of their 4x12 ceramic tile
6. Explain to the students that the Shamash Candle, the 9th candle, will not be placed together with the other 8 candles, and must be separated so it is clearly not one of the 8 candles. The Shamash can be placed in the following places on your Chanukiah:
a. At the beginning of the line
b. At the end of the line
c. In the center in front of the line of 8 candles
d. In the center behind the line of 8 candles
e. At one of the corners of the 4x12 tile
7. Once you like the positioning of row of 8 and the Shamash, use your e6000 glue to glue down the vials into place. You will have 5 minutes to readjust them accordingly until the glue begins to set.
8. Place a funnel into the vials and begin layering your colored sand
9. When the vial is full, place Elmer's Glue on top of the sand so it keeps in in place.
10. Use your e6000 glue to glue the candle base into the top of the vial.
11. Repeat until all vials are full
12. Once finished you may decorate your 4x12 ceramic base with glitter glue, Chanukah confetti, stickers, glitter glue
13. Mod Podge, to place on top of confetti and/or stickers
14. Let dry for 24-48 hours and use
Have your artwork featured in our online Israel in My Art gallery! Sign your artwork with your first name and last initial and email it to Stefie@IsraelForever.org

Painting as a part of a class or art group? Send us your selfies and group pics for a shoutout throughout our global Jewish community who loves sharing the Israel connection with their fellow Virtual Citizens of Israel around the world. Follow us social media and you can either post your pic online and tag us in your post or email it directly to Stefie@IsraelForever.org.

Help your students find unique ways you to incorporate the Israeli flag and the flag of the country in which you reside into your drawings as well, so that the world can see the vast number of nationalities of our IFF artists!
---
Recommended for you:


---
BRING ISRAEL INTO YOUR CHAGIM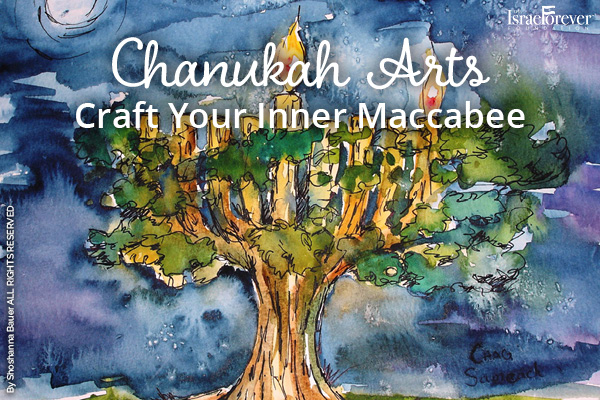 ---
About the Author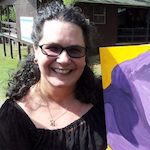 Stefanie Jo Heideman, founder of
Art Escapades
, is an art educator who believes that art is not supposed to be competitive, but rather a peaceful, relaxing experience for one to engage in and enjoy. As the Arts and Education Specialist for Israel Forever, Stefie is able to weave her love of Israel into her projects and lesson plans for individuals of all ages and stages of life.