Create Your Own Pomegranate Mixed Media Trees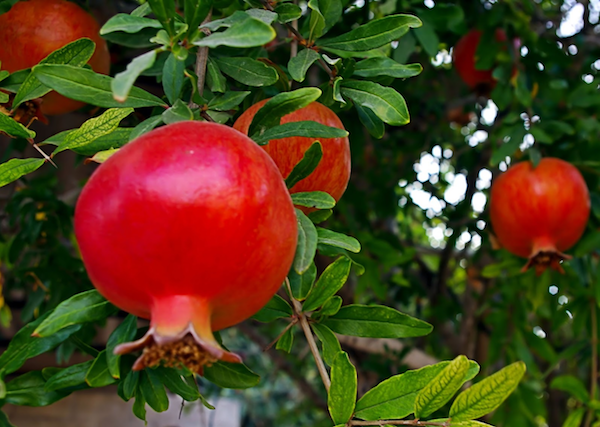 You can take the most simple photograph - like this pomegranate growing in its tree in Nes Harim, Israel, and use any art medium to create personal interpretations of it to get into the spirit of the chagim.
When we want to create something, we start off with what we see in the real world but we get stuck thinking to ourselves, "I wouldn't know how to draw that…..". In truth,using pictures from your real life to create your artwork can be inspirational, personal, and very meaningful!
To create mixed media, we will be combining drawing with collage. Begin by perusing our beautiful Israel photo galleries and selecting a simple picture of an object or scene in Israel. If printing at home, print on acid free paper to prevent fading over time, or have the pictures printed with matte finish at your local photo shop.
Examine the image and pick one spot, one object, one color to start creating your image. Many artists start by painting the background, others with the objects of focus. Using pencils or watercolors on acid-free paper, (watercolor paper works great for this type of project), rest your tip to the paper and just GO.
Before you realize it, you will have completed one item on your page. Add another, something different, replicate the image or some up with something new - nothing in art is perfect; it is but a reflection of how we see, feel and imagine the world around us.
In the picture above, the fuzzy/out of focus tree trunk, greenery and spots of daylight shining through make up the image background. The foreground is the shiny pomegranate and detailed leaves, etc. Both aspects of a picture create the perspective, which can become a vibrant display of the imagination regardless of how talented or not we might feel when it comes to art. In your art, the background can either match the photograph or emerge from your own memory about Israel from a visit, a movie, anything.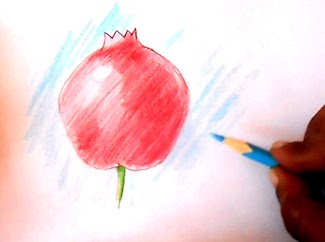 If drawing and painting any portion of the pomegranate and leaves is difficult for you, then use the photographic image to your advantage. Paint one aspect of the image, and then cut out pieces of the photograph to glue onto your watercolor paper or canvas. Make sure to add the collage paper only AFTER you are completely finished watercoloring and the paint has dried for several days.
Apply Mod Podge or sealant glue on top to create the decoupage effect.
Have your artwork featured in our online Israel in My Art gallery! Sign your artwork with your first name and last initial and email it to Stefie@IsraelForever.org

Painting as a part of a class or art group? Send us your selfies and group pics for a shoutout throughout our global Jewish community who loves sharing the Israel connection with their fellow Virtual Citizens of Israel around the world. Follow us social media and you can either post your pic online and tag us in your post or email it directly to Stefie@IsraelForever.org.

Help your students find unique ways you to incorporate the Israeli flag and the flag of the country in which you reside into your drawings as well, so that the world can see the vast number of nationalities of our IFF artists!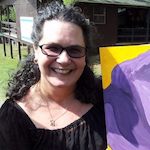 Stefanie Jo Heideman, founder of Art Escapades, is an art educator who believes that art is not supposed to be competitive, but rather a peaceful, relaxing experience for one to engage in and enjoy. As the Arts and Education Specialist for Israel Forever, Stefie is able to weave her love of Israel into her projects and lesson plans for individuals of all ages and stages of life.
---
Recommended for you:


---
BRING ISRAEL INTO YOUR CHAGIM