Rimonim inspired by Israeli Artists Nachum Gutman and Reuven Rubin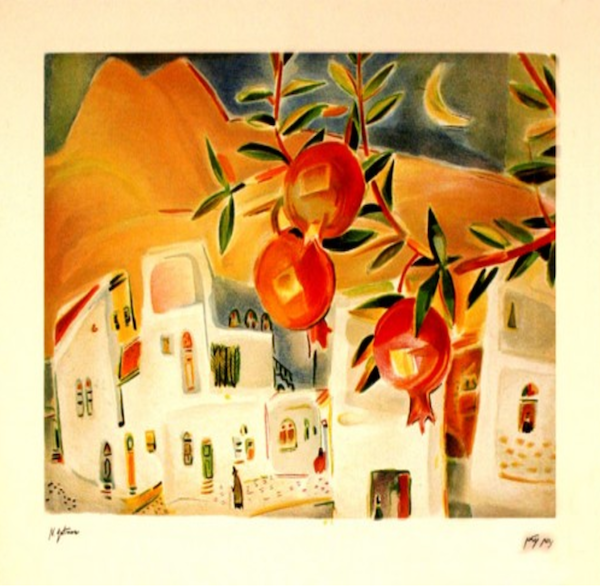 This watercolor painting was originally painted by Nachum Gutman, an Israeli artist.
To create an image similar to this, begin by drawing your line of Horizon, where the land meets the sky; towards the top of the page. It does not have to be exactly what Gutman drew. We are only getting inspiration from Nachum Gutman - NOT copying his works…….
Step 1: Draw a line, with some mountain tops, towards the top of your page. Include a moon indicating nighttime.

Step 2: Leaving an empty section for a large portion of the page, draw buildings in rectangular vertical shapes. Add windows and doors by drawing smaller square and rectangle shapes. Perhaps there are candles in one window, or a young girl leaning on a window sill. Do not feel inhibited - use your space and create from your imagination.
Gutman chose to have his Pomegranate Tree branches coming into the picture from the right side, and he did not show the tree trunk. Perhaps this is the view from his window, or perhaps he sought to portray the branches as the sturdy balance for each pomegranate rather than the trunk, as some might.
Whichever direction you choose, or if you prefer to draw the whole tree coming straight out of the ground, trunk and all, this Gutman-inspired pomegranate creation will be your original bit of Israel. It is totally up to you; as You are the artist, and it is your Israel connection.
Use shades of brown to create your tree trunk and branches, and reds for your pomegranate shapes, Greens and hints of yellow and white for your leaves.
Oil pastels work wonderfully for this project; as the students mix their oil pastels freely yet they all come out so differently.
Your village can be shades of white, light grey, gold, brown or whatever colors you want your buildings to be. Depending on the time of day, Jerusalem stone varies in color from tawny brown to a pinky beige but the houses of the hills of Zichron Yaakov, Tzfat, Haifa can portray the variety of shades of our beautiful Israel.
SEE THE BEAUTY OF A FINISHED PRODUCT BY AN 8 YEAR OLD ARTIST OF ISRAEL!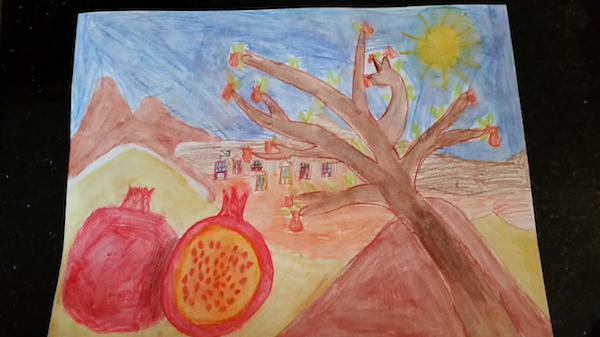 Have your artwork featured in our online Israel in My Art gallery! Sign your artwork with your first name and last initial and email it to Stefie@IsraelForever.org

Painting as a part of a class or art group? Send us your selfies and group pics for a shoutout throughout our global Jewish community who loves sharing the Israel connection with their fellow Virtual Citizens of Israel around the world. Follow us social media and you can either post your pic online and tag us in your post or email it directly to Stefie@IsraelForever.org.

Help your students find unique ways you to incorporate the Israeli flag and the flag of the country in which you reside into your drawings as well, so that the world can see the vast number of nationalities of our IFF artists!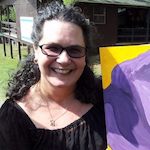 Stefanie Jo Heideman, founder of Art Escapades, is an art educator who believes that art is not supposed to be competitive, but rather a peaceful, relaxing experience for one to engage in and enjoy. As the Arts and Education Specialist for Israel Forever, Stefie is able to weave her love of Israel into her projects and lesson plans for individuals of all ages and stages of life.
---
Recommended for you:


---
BRING ISRAEL INTO YOUR CHAGIM