Rosh Hashanah Reflections of Israel and Art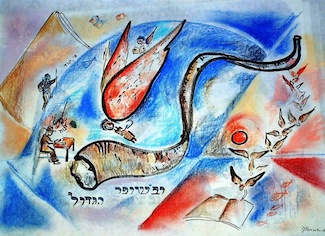 Rosh Hashanah is the time of year to reflect upon the blessings we have in our lives, what makes us happy, and the changes we would like to make for the upcoming year. No matter your age, or the age of your students, it is the perfect time to reflect upon your life, draw a picture of things you are thankful for, and write something from your heart on paper.
There are several symbols associated with the holiday of Rosh Hashanah that are integral to our celebration and our traditions and often represented in Jewish and Israeli art.
1. Shofar (Ram's horn) - to symbolize awakening, tradition, commitment
2. Pomegranate - to symbolize prosperity, fertility and continuity
3. Tree of Life - to symbolize life and prosperity Apples & Honey - to wish for a sweet new year
4. A Round Challah - to symbolize the cyclical year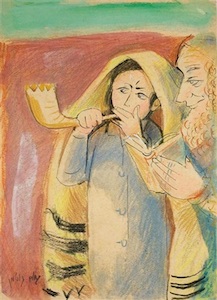 Two of Israel's first exemplary artists, Nahum Gutman and Reuven Rubin, depicted symbols of the New Year among their diverse representations of the Land and people of Israel. As we start the new year, we are proud to feature their different approaches to the pomegranate - an important symbol in Judaism and Jewish traditional observance of Rosh HaShanah.
Using varied styles, both exposing depths of color, connection and imagination in their works, we can catch a glimpse of their love for the land and for the influence of heritage on their lives and surroundings. Join us as we explore the different ways you, too, can embrace the pomegranate and add Israel to your art to get into the spirit of the chagim.
Whether a teacher, a parent, or a community leader, we encourage you to explore reflective drawings that relate the significance of and connection to Israel during this holy time of year when we are reminded of our unity as a people.
Have your artwork featured in our online Israel in My Art gallery! Sign your artwork with your first name and last initial and email it to Stefie@IsraelForever.org

Painting as a part of a class or art group? Send us your selfies and group pics for a shoutout throughout our global Jewish community who loves sharing the Israel connection with their fellow Virtual Citizens of Israel around the world. Follow us social media and you can either post your pic online and tag us in your post or email it directly to Stefie@IsraelForever.org.

Help your students find unique ways you to incorporate the Israeli flag and the flag of the country in which you reside into your drawings as well, so that the world can see the vast number of nationalities of our IFF artists!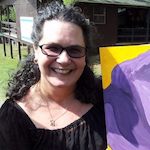 Stefanie Jo Heideman, founder of Art Escapades, is an art educator who believes that art is not supposed to be competitive, but rather a peaceful, relaxing experience for one to engage in and enjoy. As the Arts and Education Specialist for Israel Forever, Stefie is able to weave her love of Israel into her projects and lesson plans for individuals of all ages and stages of life.
---
Recommended for you:


---
BRING ISRAEL INTO YOUR CHAGIM